Wiser! #56 (Premium): Apple dominates the Wearables market with the Number 1 Watch and Airpods. But if Apple are to ring the $4 trillion bell, they are going to need new products. Next to come is a Mixed Reality Headset and then a pair of AR glasses.
w/Insights: Premium Content
The following article from the Insights Series is exclusive content for paying subscribers to the Wiser! Newsletter. Links containing the Amazon logo are affiliate links.
---
w/ In partnership with
---
w/BigTech
Audio courtesy of Hacker Noon
---
Wearables (and Services) are the drivers of Apple's top-line growth
When Apple recently, briefly, hit a market cap of $3 trillion, it made them the size of the UK, the 5th largest economy in the world. And whereas the UK is growing at around 1-2% at best (given the economic impact of the pandemic and the own goal that is Brexit), Apple grew 36% last year. By comparison, the S&P 500 (only) achieved growth of 26% across 2021.
Whilst it is the iPhone (with its billion users) that makes up almost half of Apple's numbers, it is Apple's Services and Wearables businesses that are expected to drive top-line growth going forward and ring the $4 trillion bell. Increasingly, Apple's strategy is to (a) get you to pay regularly every month in ever-increasing amounts (instead of the one-off transactions from buying a new iPhone, iPad or Mac computer)  and (b) grab more of your time and attention.
Apple Services
Strong adoption of Apple Pay (92% market share in US mobile payments) and the growing subscriber base for Apple One, Fitness+, Music and TV are key growth indicators for Apple's Services revenues that now represent over a fifth of Apple's income.
Apple Wearables
Apple Wearables is a $30 billion business and bigger than Starbucks on its own. If it was a standalone company, it would be in the top 100 of the Fortune 500. When the numbers are released, it is expected that Apple will report sales of over 105 million Wearables units last year. That's about two-fifths of the number of iPhones shipped. Not bad considering that 2021 was a record year for iPhone sales!
Apple's Wearables business includes the number 1 selling watch in the world and the number 1 selling wireless speakers. There are now 100 million people wearing an Apple Watch and in 2020, the Apple Watch outsold the entire Swiss watchmaking industry that has been around since the late 1600s (the Apple Watch was launched in 2015!).
The Airpods business alone generates roughly $12 billion a year, more than Shopify, Snap, and Twitter combined. If all the AirPod users were counted as a population, they would be the 8th largest nation in the world.
And it isn't going to stop there.
The new AirPod3 focuses on spatial audio and technology to recreate a natural sound in the user's ear. Apple has already submitted a patent to install a camera in its AirPods case (so that users don't need to carry their phone with them when they're out running). The Independant reported that Apple is working on various health monitoring features for AirPods to "read your body temperature, improve your hearing, and oversee your posture".  
Check the latest prices on Amazon for the 3rd generation Apple AirPods

, or the Apple AirPods Pro.

Apple dominates the market in Wearables
Apple dominates the whole Wearables space. This is as much a function of their brand and scale as it is about product superiority, functions and features. It's also the case that Apple saw the opportunity early.
When others were focused on voice products, Apple applied its people-centric design competency to build people-pleasing devices that could enhance a users appearance. The AirPod and Apple Watch are stylish fashion accessories that would compliment any Italian fashion show. They signal status and wealth whereas a MetaFacebook Oculus 2 VR headset in your Tinder profile pic is a surefire way to remain single for the rest of your life.
So, what's next for Apple in the Wearables space? The good money is on two brand new products. One will be a VR/Mixed Reality Headset that will be a sleeker version of a conventional gaming headset. The other is a pair of AR Smart Glasses that project an overlay onto the lens of the glasses. These AR glasses will come later, probably by 2024 or 2025.
Apple's Mixed Reality Headset
Apple CEO Tim Cook has made no secret of the fact that he sees Apple's future in Augmented Reality, not Virtual. As far back as 2016, Tim Cook has been saying that he sees AR as being bigger and more important technology than VR.
However, Apple will go first with a VR headset that is being described as Mixed Reality because it will also have AR features. Apple has long been rumoured to be working on its very own mixed reality headset. If patent filings are anything go by, Apple's not-so-secret "secret" R&D team have been working on AR and VR projects for at least a decade.
The details of the Apple headset are closely guarded but the word on the street suggests that it would start with an impressive 8K resolution per eye. It would also be loaded with sensors, with more than a dozen "inside out" cameras to track movement. The headset is also anticipated to be lightweight, have 15 optical modules and two main processors, come equipped with Wi-Fi connectivity. The AR features will include eye-tracking, a see-through mode, object tracking, and hand gesture controls. And remember, it's an Apple, which means it'll be priced high. Nobody knows, but the going rate by the commentators lean towards a ballpark price of around $3k.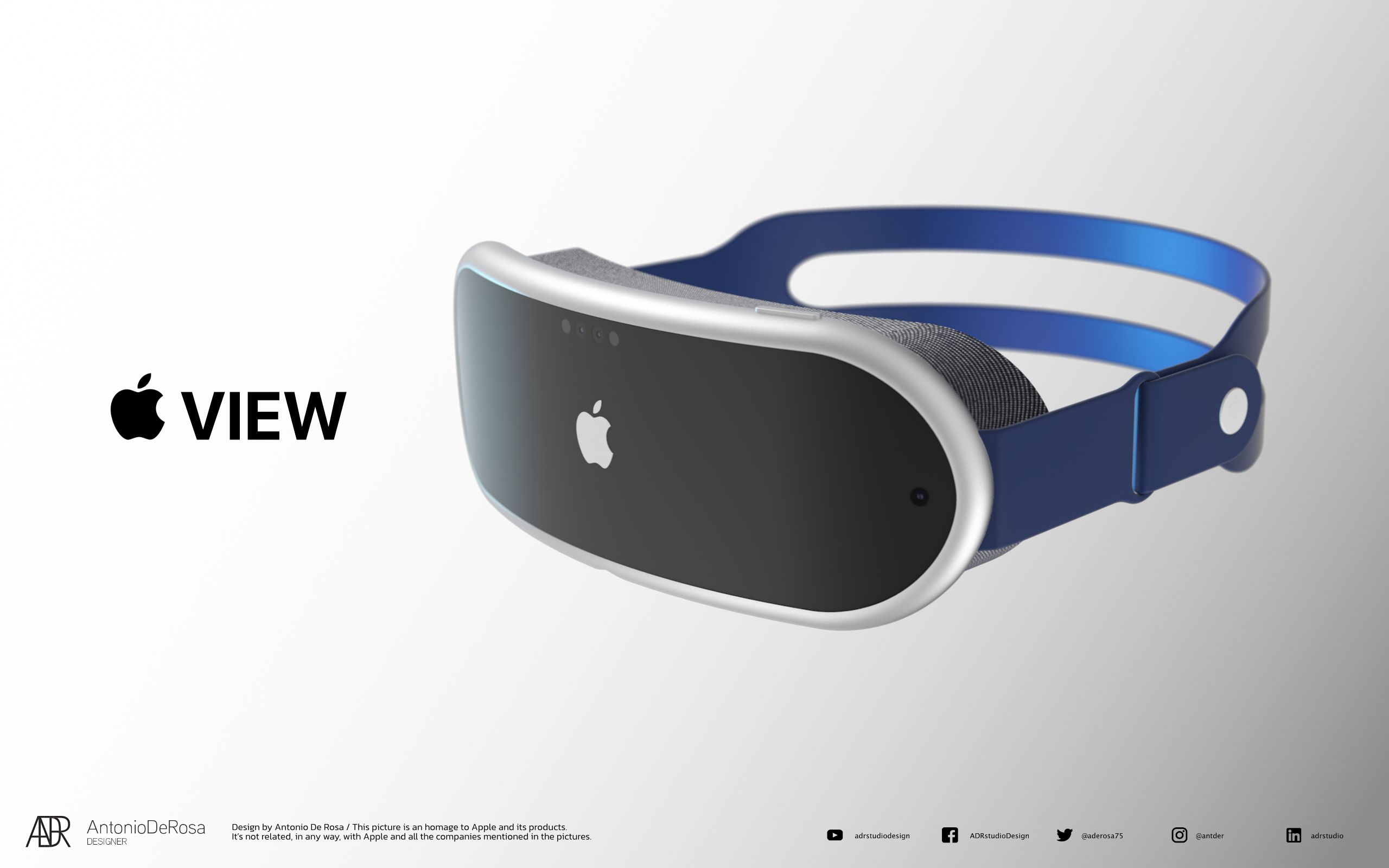 Bumps in the road
Apple is reportedly running into hardware and software challenges with its Mixed Reality headset. The leading Apple analyst Ming-Chi Kuo had claimed that the headset would be publicly launched in the fourth quarter of 2022 (in the run-up to Christmas), but it seems that the lunch probably won't happen until 2023. Apple had initially targeted the launch for the annual Apple developer's conference, WWDC, which takes place in June.  Not only would that have been a great showcase moment for Tim Cook as the world looks to see what's coming next from Apple, but it would also have given a sneak peek to the developer community. They need plenty of runway to get their apps ready for a public launch if was going to be later in the year.
However, Apple is reportedly running into problems related to overheating, as well as issues with the headset's software and cameras. The issues are said to be forcing a change in Apple's internal release plans.
The thing is this. The Apple headset would be the company's first major new product since the debut of the Apple Watch in 2015. Development of the device has been ongoing since around that time and they ain't rushing into a public launch, even with the increased focus and attention given to the Metaverse by the MetaFacebook renaming/rebranding/land-grab.
Apple Glasses
As I said, Cook sees the future in AR. The ability to overlay useful information onto the lens of a normal-looking pair of glasses that are not the size of a house brick. Instead, Apple would use transparent lenses to allow the user to see the real world with their own eyes (which is not the VR experience). The display would be shown via a small projector or through transparent pixels on the lens itself.
Theoretically, the user will see information like Apple Maps' directions or incoming iMessages. Apple's wearable is expected to utilize a slim design encased in plastic with no cameras.
This is key. Readers will remember the recent launch of the MetaFacebook Ray-Bans that included an in-built camera on the front of them. It wasn't long before MetaFacebook learnt that 'inconspicuous cameras' and 'invasion of privacy are joined at the hip. Instead, Apple (allegedly) will use LiDAR sensors to enable environment and hand tracking.
Interestingly, in a recent patent filing, Apple was given the go-ahead for smart glasses that could adjust its lenses to correct the wearer's vision. The company proposes to use a stack of lenses for each eye that can be precisely adjusted to control how much light passes through. An eye-tracking system could be used to provide more advanced adjustment to the user's vision. Whether Apple Glasses could replace prescription glasses is not clear, but it is entirely possible that they could adjust to become standard reading glasses, like that that are bought off the shelf.
The Eye of the Beholder
TalkingPoint: The Wearables space meets the Metaverse meets Augmented and Virtual Reality meets Data meets the Internet. This is what's coming. Whilst the current focus is predominately games, this is serving as a proving ground for the tech. The real opportunity comes from practical applications in real-world situations.
If you don't believe me. When was the last time you got from A to B with a map? And I don't mean a Sat Nav or an app on your phone. Pick a destination and the tech will guide you there in the manner that suits you best (quickest, cheapest, most scenic, on foot, bus or by car). But walking down the street and reading your phone isn't always easy. So imagine having the directions whispered in your ear and projected before your eyes courtesy of a pair of smart sunglasses.
Or going into a shop and having price comparisons or alternative options presented to you as you browse the aisles and displays. It may sound very sci-fi, but it is very doable.
Here's the thing. Everyone talking about the Metaverse ends up getting abstract and it all becomes unrelatable.
But think about this.
Apple has a complete ecosystem built around the App Store and its interconnected devices and services. With multiple Wearables - iPhone, AirPods, Watches and (soon) Glasses - all integrated via iCloud to a bunch of apps and subscription services, Apple will own the rails that connect the user with an Augmented and Virtual (meta) universe.
This market is expected to be roughly the same size as Apple is today within just a couple of years. It's going to be huge, and Apple is going to want a big piece of it. Meanwhile, you're going to see Google and Samsung, Snap and others all bringing out new products into the space in an effort get a head start on Apple.
IMHO, it'll be a short term gain because once Apple hit the launch button, it'll be all systems go!
---
w/ Buy Me A Coffee
This newsletter relies on the subscriptions and donations from readers like you. If you'd like to show your appreciation, the easiest way to make a donation is to Buy Me A Coffee. It's super easy and only costs €2 a virtual cup.  100% of your donations go towards the running costs of Wiser!
---
w/Snippets of Insight and Information
Google to launch a smartwatch in 2022
It was always going to happen after the $2.1 billion acquisition of Fitbit in 2020. This year  Google is expected to finally launch a smartwatch. Google is rumoured to be working with Samsung on a Pixel Watch that will run on Wear OS3 and showcase Fitbit's health and fitness features.
Smartwatches to become a whole lot smarter
Blood pressure is set to be the next big metric in Wearables. Currently, only the Samsung Galaxy Watch 4 and Huawei Watch D smartwatches promise to offer blood pressure readings from the wrist. In 2021, startup Aktiia launched a fitness and health tracker that could track blood pressure using optical PPG sensors. Expect Apple, Samsung and Huawei to lead the way.
Meanwhile, Apple, Google/Fitbit and Samsung have all reportedly made moves to make non-invasive monitoring of blood glucose levels a possibility. Apple and Samsung are apparently working on infrared sensors for blood glucose monitoring. And UK-based Rockley Photonics is developing sensors that can track alcohol levels in your blood. It's worth noting that Rockley is a supplier for Apple. Two + Two = ...
Facebook has filed a patent for a smartwatch with a detachable camera.
The MetaFacebook smartwatch is slated for release in 2022. The patent shows a detachable screen that can be refitted into a base that remains on the wrist. The idea would be for the detachable element to offer an additional camera. Patents don't always make it into products, but it seems inevitable that MetaFacebook's first entry into the smartwatch market will include a camera as a key feature. After all, the Zuck's ambitions for MetaFacebook are centred on visual communications in the so-called Metaverse.
---
w/Additional Reading about Apple
Apple Glasses. Source: MacRumors
Apple Fitness+ gets outdoor running boost: Source: Wareable
Apple iPhone 13 Review: It's all about the battery life. Source: Mashable
Every time Apple CEO Tim Cook praised augmented reality. Source: The Verge
Apple AR/VR headset hitting some snags & may not make 2022 release. Source: AppleInsider
---
w/Some Wiser! Back Issues
Note: I wrote this first article on Apple just 9 months ago when they became a $2 trillion company! Apple's ability to command Ferrari level margins across all of its lines of business whilst delivering Toyota volumes is staggering. The question now is how long before they become a $4 trillion business.
---