Wiser! Wisdom: The Covid pandemic has accelerated the shift in medical treatment from the waiting room to the front room. In this exclusive interview, Rick Huckstep talks with the founder and CEO of Instant Dentist, a digital oral health startup.
---
---
Telehealth: the medical centre in your smartphone
The provision of healthcare is undergoing profound change. Accelerated by the pandemic, the provision of digital healthcare services, aka telehealth, is replacing visits to physical surgeries and clinics with virtual consultations and diagnosis via smartphones and mobile devices.
Tech-enabled healthcare startups are applying technology and innovation to both drive down cost and increase access to healthcare for those that need it the most. This shift in physical to virtual locations is having a profound impact by providing more people with access to healthcare.
It is estimated that around half the world's population live without healthcare, impacting diverse and dispersed communities alike. This lack of access is both a function of geography (how far away is the nearest clinic?) and cost (can I afford it when I get there?).
According to a 2017 report by the World Bank and the WHO, around 800 million people spend around 10% of their household income on medical expenses, pushing around 100 million of them into extreme poverty.
Even in developed nations, there are many parts of the population who live in remote parts of their country, severely restricting access to healthcare. Imagine living in Alaska or the Shetland Islands. Even putting to one side the issue of proximity and cost, the reliance on face to face consultations puts significant strain on resources.
The reality is that the ratio of doctors, dentists and specialists to the general population is still very small. There are only so many people that any one medical specialist can see in a day!
A battleground for BigTech
This growth in telehealth is being matched by investment in virtual healthcare solutions that tripled between 2019 and 2020 from $1.1bn to over $3bn. According to Statista, the telehealth market will grow from around $45bn in 2019 to $175bn by 2026.
A significant sub-trend is the emergence of telehealth solutions aimed at groups of people with the greatest needs. Take Cityblock Health, the telehealth/insurance startup out of Sidewalk Labs, the innovation lab for smart cities. Cityblock are applying tech-enabled care for poor and marginalized communities that offer both prevention as well as cure solutions.half the world's population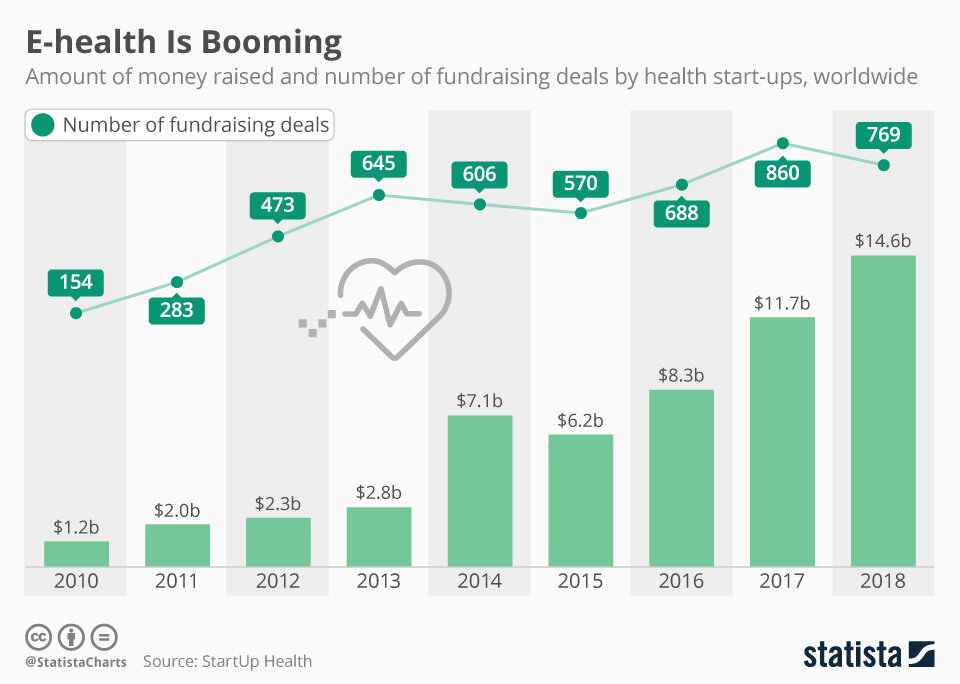 With over 4 out of every 5 households having an Amazon Prime account, it makes sense for Amazon to add healthcare to extend their value proposition. In 2018 they acquired Pillpack, the online pharmacy and last year, Amazon opened 20 healthcare clinics and offered telehealth to its USA employees.
Walmart's acquisition of CareZone gives them the tech capability to manage customer's medicines and prescriptions.
And the subject of Apple and its use of the iPhone and Watch in the healthcare space is the subject for a piece that you'll find in the Wiser! newsletter content.
In amongst the big tech players are Teladoc, the $42bn startup offering a range of telehealth services from virtual consultations to mental wellbeing to prescriptions and regular health checks.
And what about dentists? Is there a digital, virtual solution for oral health?
The democratisation of oral health
The answer is yes, and to find out more I jumped on a zoom call with Aalok Yashwant Shukla, the CEO and co-founder of Instant Dentist™.
In a nutshell, Instant Dentist™ is a mobile app that brings the check-up, consultation and expertise to you.
The app utilises the high quality imaging capabilities of smartphones to capture pictures and videos that are used for screening, diagnosis and continuous care. It works because the majority of conditions in dentistry are diagnosed either visually or volumetrically, such as changes in colour or shape or combinations of the two.
The initial diagnosis can be done just as effectively via your phone without the need to book an appointment and travel to physically see your dentist. This reliance on a visual check lends itself to a mobile application combining a virtual review by a dentist using the images and video captured by the mobile.
Aalok explained what Instant Dentist™ is all about; "Our goal is to democratise oral healthcare. The problem is that access to a dentist is limited because of cost, location and the limited numbers of dentists and healthcare professionals out there. The ratio of dentists to patients is very low.
"When I was running my own practice I started thinking about how we might apply technology to lower costs and increase  access. This is the same thought process for all industries when it comes to tech innovation. But in dental care, when you add new technology to a clinic it usually means an increase in costs.
"For example, when a dentist buys a new scanner or laser, it's a large financial outlay that only benefits a small number of people who can afford the advanced services. My goal was to do the opposite, use technology to drive down the cost of going to see a dentist."
The result is a virtual dentist on your mobile phone.
The next time you get a toothache, there's no need to wait and then spend the time and cost travelling to a dentist's surgery for a 60 second inspection. Instead, the app will guide you through using the phone's camera to capture the images necessary as and when you most need it.
Expert+AI
At this point, I'm sure you are expecting me to say that the images are then processed by algorithms and the AI delivers a diagnosis. Sorry to disappoint you because the images are reviewed by trained dentists working remotely.
Aalok explained how the solution works, "We have a built a system that assesses your oral health against 22 risk factors. This gives you an oral health score that you can monitor over time. Because you have this capability in your home, you can perform health checks on a regular and frequent basis, not just rely on your annual visit to the dentist (assuming you are someone who goes to the dentist, which is only about 50% of the population).
"The risk factors will guide you towards changes in your eating and hygiene habits to improve the risk scores. We have built algorithms to process images and deliver an assessment but they are still a blunt instrument. We have found that using the expertise of a trained dentist to review the images is better for patients."
This is what Aalok calls expert+AI.
3D printing and robotic trimmers
There is a 2nd string to Aalok's tech enabled dentistry bow. And that is teeth straightening with Straight Teeth Direct. This is a 100% remote service that costs around a third of the price of a conventional visit to a clinic.
The concept is straightforward. The customer takes images of their smile with their phone to be assessed for suitability. They are sent a Smile Kit which contains a 12 page report showing them images of what their smile will look like once it has been straightened and all the unique factors they need to consider personalised to them.
A mold is taken of the teeth and this is filmed using the mobile phone camera and uploaded to the app so that a digital dentist can provide guidance. These molds are then returned to the in-house digital lab for 3D scanning. The 3D scans are used to generate a sequence of 3D models that drive a 3D printer to produce a series of invisible 'aligners', the things that fit over your teeth to nudge them into their new alignment.
The liners are then trimmed by a robot or technician before being sent to the customer.
The Humans+Tech approach to telehealth
The thing I took away from the conversation with Aalok was this notion that it's not all about the AI. There's a tendency at the moment to see machines replacing mankind in every aspect of our lives. There's no doubt that AI and machine learning and a whole bunch of other tech can definitely do many things on a scale and at a speed that is unachievable at a human level.
But there are still many things that they can not.
And it seems to me that the ideal model is this human plus technology hybrid approach that Instant Dentist™ have applied.
---
If you enjoyed this article and took value from it, you can show your appreciation by making a €2 donation here.

---
Further Reading
Startup Health Insights Report 2020
Overview of telehealth, by the Centre for Disease Control
Telemedicine 101, history and evolution, by Research G2
How far Americans live from hospitals depends on their community type, by Pew Research
---