Wiser! #9: Microsoft score $20bn AR deal with US Army, TikTok's awesome signal liquidity, Coinbase goes public, and more strategic insights from the Tech Economy
---
In this issue:
Microsoft and the $21Bn army order for Augmented Reality headsets
Coinbase announces date of public offering
What's the fuss…about TikTok?
Global Semiconductor Shortage
Dutch floating solar farms
Hydrow - the Peloton of rowing machines
Frankenstein fake IDs
Amazon's Twitter war
---
Microsoft and the $21Bn army order for Augmented Reality headsets
Yep, you read the headline right… 21 billion dollars for augmented reality headsets for the United States army.
You know Microsoft is up to something interesting when its newest gadget feels straight out of "Call of Duty."
The US Army recently announced a massive contract to the tech company to supply advanced mixed reality headsets for soldiers.
The AR device is based on Microsoft's HoloLens
For context, the consumer version, which places interactive holograms over futuristic spectacles, costs $3.5k a pop.
But the Army's version isn't built for consumers; it was built for war:
The headsets integrate high-resolution night, thermal, and soldier-borne sensors into a unified display';
Microsoft will deliver more than 120,000 augmented reality devices to the US Army over the next 10 years;
The AR features improve situational awareness, target engagement, and informed decision making;
The tools offer soldiers life-like mixed reality training environments
But some at Microsoft aren't big fans
Previously, some employees unsuccessfully petitioned the company to hold off on its cloud-computing and AR contracts, saying they didn't sign up to build weapons.
In response, CEO Satya Nadella said the company sees no problem building tools that help protect democratic freedoms.
Today, AR shows no signs of slowing down. Facebook reportedly dedicates 1/5 of its staff to this space, and Apple has its own headset in the works (as covered in the last issue of Wiser!). Source: Last Futurist
Side Note: Apple, Google, Facebook and Microsoft lead the race to buy AI companies
Why is this important? Because it tells you all you need to know about where the tech giants see the future. Whether it is Augmented Reality, Natural Language Processing, or simply increasing their ability to algorithmically profile us, AI is number 1 when it comes to new tech. Source: Global Data
---
Crypto Corner -
Coinbase announces date of public offering
Note: I did not say 'IPO" in the heading. That's because Coinbase's long-awaited debut on the public market is going to come as a direct listing.
This is an unorthodox approach by the first cryptocurrency exchange to go public. Because direct listings do not raise new capital by selling new shares. They (simply) allow existing shares to be traded publicly.
If you're unfamiliar with Coinbase, they are the leading US-based Bitcoin and cryptocurrency exchange. You can exchange dollars, euros, and sterling for Bitcoin, Ether, and about 20 or so of the leading cryptocurrencies.
Coinbase has a pre-launch valuation of $68bn on revenues of around $7bn. They have 56 million users worldwide and have significantly benefitted from the bull run on cryptocurrency over the past year.
The significance of Coinbase going public is that it moves Bitcoin and crypto a little further along the road to mainstream as an asset class.
If you're looking to buy Bitcoin or dip your toe into the crypto world, IMHO, Coinbase is a good place to start. It's an established exchange, easy to use, and has a good record of protecting customer's assets.
This is not an endorsement for Coinbase although I have had an account with them for about 6 years and never had an issue.
If you use this link, you and I will both get $10 in Bitcoin when you invest your first $100 in Coinbase.
(BTW, if you had invested $10 in Bitcoin when the first exchange went live in March 2010, you would have received around 3,330 BTC. Which would be worth around $200m today!) ₿💰
Bad stuff in the Crypto world
And whilst I'm on the subject of getting into crypto, this world is new and exciting…but it is also risky and unregulated. It's the Wild West and new frontiers are being established all the time.
This isn't meant to put you off, just level set your expectations that not everything is going to be as it seems. There are bad actors out there who are exploiting the naivety and newness of crypto. Just as there are in many walks of life.
So, keep yourself informed by following Token Sniffer, the site that keeps an up-to-date list of all new tokens and the list of scams and hacks (currently 347 of them!).
---

---
What's the fuss…about TikTok?
TikTok is a social media app owned by Chinese firm Bytedance. It launched in 2016, and by 2019 its revenues had grown to $17bn. This private firm is valued somewhere between $150-180bn.
Inside China, TikTok goes by the name of Douyin. It's the same app, just different names. (Remember when Trump blew hot air about Bytedance being a Chinese firm last year?)
Together, TikTok and Douyin attract around 1.3 billion monthly active users.
It's estimated that users spent an incredible 68 billion hours watching TikTok micro-videos in 2019….all of them less than 60 seconds long!
I've recently set up the Wiser! channel on TikTok and I can tell you from experience that this app is sticky and addictive!
The key to its success is 2 fold.
First, it is incredibly simple. Unlike Instagram, with its confusing mix of stories, reels, and IGTV all doing the same thing, TikTok only does 1 thing.
And it does it extremely well.
The second (and this is the most important bit) is that it has awesome signal liquidity. More than any other social media platform.
What I mean by signal liquidity is the data about user behaviour the app collects.
This data feeds AI algorithms to understand who you are, what you're interested in, and, most importantly, what will keep you on the app (known as "engagement").
All other social media platforms measure the time to collect signals in hours. But not TikTok. It takes the app less than 15 minutes to suss you out.
Every time you watch (or skip) a video, TikTok captures over 10 times the number of signals compared to the other social media platforms.
That's as many as 150-300 data points, in less time than it takes to watch the Netflix trailer. Pretty soon you are going to see a continuous stream of micro-videos that play to your interests.
It's like sitting at a slot machine with an endless supply of pennies. It just never stops!
This is why TikTok is highly addictive! And has the potential to massively influence a generation of highly influenceable young users who spend an average of 52 minutes a day on TikTok!
Moving to 3 minutes?
The rumor is that TikTok is considering increasing the max length of its micro-videos to 3 minutes. (Remember when Twitter went from 140 to 280 characters in 2017...exactly,  nobody does because it made the experience better).
The case for staying at 1 minute is that the secret sauce for TikTok is brevity… make your point, tell your joke, offer your nugget of wisdom…and move on!
60 seconds is enough.
That is unless you're an advertiser. They look at the young demographic (61% under the age of 30) and think "3 minutes is perfect for a music video".
And when you consider that TikTok has yet to fully exploit its potential for product endorsement, it is easy to see why the likes of Walmart have been linked to buying the social media app.
To illustrate the powerful potential of product endorsement on TikTok, take Dunkin' Donuts.
Last year, they named a drink after the most followed user on TikTok, a 16-year-old dancer called Charli D'Amelio. Charli made no secret of her love for Dunkin' Donuts and the fast-food chain saw the opportunity.
In an unofficial move, The Dunkin' created The Charli.
And immediately was in front of Charli's 112 million followers.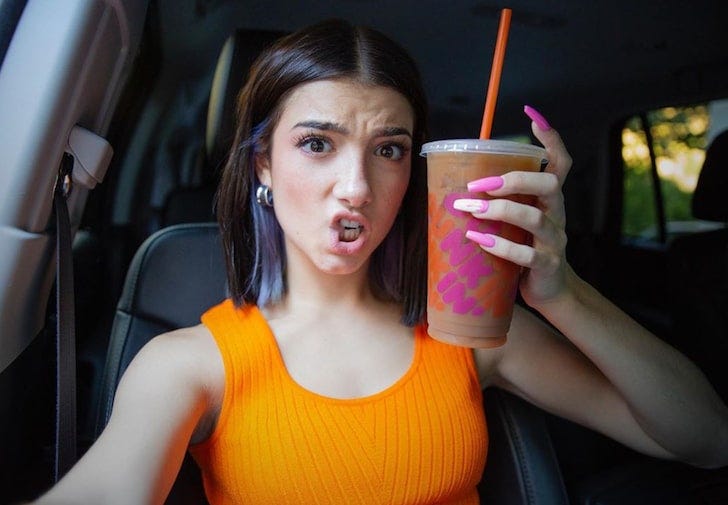 Right after Dunkin' launched the cold drink, it saw a 57% increase in downloads for the Dunkin' app. In the first 5 days, they reported selling hundreds of thousands of The Charli and a 20% sales boost for all cold drinks.
That's the power and potential in TikTok!
---
Snippets -
wisdom & insights of others
Global Semiconductor Shortage
It sounds boring, but it's significant. The global shortage in semiconductors, aka integrated circuits, is creating havoc. Effecting the car industry, smartphone market leaders Apple and Samsung, and the rollout of 5G. It's a complicated story compounded by Covid and disruption to global supply chains. This is a great explainer of what's going on. Source: Degiro
Dutch floating solar farms
This is gangster genius. Take the unused surface area of a reservoir. Build a floating island of solar panels. And let nature do the rest. The water acts as a cooling agent for the panels, which are about 20-30% more efficient than land-based farms. And solar electricity runs the purification treatment that makes the water usable. Source: Architectural Digest
Hydrow - the Peloton of rowing machines
The Hydrow is a super cool rowing machine at a hugely inflated price that signals wealth and status. Like Peloton, it has a subscription service for live stream online classes. Or on-demand videos so that you can do your morning row down the River Thames (and because the local reservoir is now running a solar farm!). P.S. I want one! Source: ParleyMe
Frankenstein fake IDs
This is the latest and fastest-growing tech scam. Aka synthetic identity fraud, scammers are creating Frankenstein IDs by combining real and fake info to build an entirely new digital identity. The digital fakers are using biometric data to dupe facial and audio recognition technology. The takeaway - be careful online. Source: Experian
Amazon's Twitter war
A bizarre story of little merit from a tech perspective. But still fascinating to see that the world's richest man behind the most successful startup in the history of the world is human too! Source: Vox
---
Reading, Listening, Watching
Reading
It's a decade old, but Tribes by Seth Godin is still relevant, probably more so, today than it was in 2011. I've started using this new tagline "insight and information gives you leverage". I got it from reading the book this week.
Listening
In this week's Sway by Kara Swisher, the guest is Tim Cook. He's been CEO of Apple for a decade now. When he took over from the late departed Steve Jobs, Apple's market cap was $350bn. It is now $2.3 trillion! No CEO in the history of, like, forever has increased the value of their company by the equivalent of Brazil, the 8th largest economy in the world!
Watching
CodedBias on Netflix investigates the bias in algorithms after an M.I.T. Media Lab researcher uncovered flaws in facial recognition technology. Interesting and worrying!
---
And finally…
It's good to share 🙏 👇
Thank you making it to the end of the newsletter 🤟.
Please help us out and share this newsletteron your social media.
Show us your appreciation 🤗
If you liked it, click this button & buy us a coffee (well, actually, you'll send us a couple of Euros so that we can buy a café con leche next time we're in town) ☕

Tell us what you think of this issue 🤔
Please take a minute of your time and leave some feedback in the Disqus section below. Thank you
Till next time, Rick