---
Subscribe Now For Free
---
Reader Survey Results - March 2022
I used Survey Monkey to send out a 10-question survey. It went to the 848 members of the Wiser! Newsletter. Not everyone answered and some questions were skipped. In many ways, that doesn't matter so much.
The key is that you, the readers, gave me feedback. It's come at an important time as I reflect on the first year of Wiser! and set my focus and direction for the next year.
Here are the six key pieces of feedback you gave me:
7 out of 10 Readers Want to Keep Wiser! Wide, Not Deep
2/3rds of Readers Want to Know What's Next in the Tech Economy
75% of Readers Say Stay Just The Way You Are
90% of Wiser! Readers Love to Read
8 out of 10 Readers Save Time and Stay Informed in Language They Can Understand
4 out of 5 Readers are Willing to Share Wiser!
Below are the result details, some reader feedback and my takeaways for each question. Let me know what you think by leaving a comment in the section at the bottom of this page. Or, get in touch if you'd rather keep your comments just between us.
---
7 out of 10 Readers Want to Keep Wiser! Wide, Not Deep
I must confess to being pleasantly surprised by this one. The conventional wisdom for getting a newsletter off the ground is to be ultra-niche. To double down on a very narrow and specific area of focus and build a foundation based on a small but highly engaged demographic.
An example would be:
Cooking (is a broad category),
Vegetarian Cooking (is a niche category),
Vegetarian Cooking for Working Parents with School-Age Children (is ultra-niche).
However, I'm very happy with this result and it supports my personal desire to cover a broad range of topics that span the entirety of the Tech Economy.
Reader Feedback
"the breadth (of content) is great, as are the deep dives into particular areas. I don't mind what those areas are, learning more of what I know about is OK but I want to see what you (and others) think is interesting/important."
---
2/3rds of Readers Want to Know What's Next in the Tech Economy
Frankly, this was the question I was most worried about. In case the majority answer was "none of the above!" Thankfully that wasn't the outcome.
Combining the crypto and emerging tech answers tells me that around 2/3rds of you want more of "what's coming" rather than "what's happening". Duly noted!
Reader feedback:
"I particularly like the variation in topics you cover. The most relevant developments and the more in-depth analysis of topics I wouldn't usually follow up, e.g. anything to do with Meta."
---
75% of Readers Say Stay Just The Way You Are
That would make a great title for a song.
The key takeaway for me here is that there's an appetite amongst the readership for long-form analysis. Which I'm very happy to hear. I love researching and writing deep dive Insights articles.
My challenge is that they are time-consuming and I need to build an audience first. But rest assured, the long-form Insights will continue.
---
90% of Wiser! Readers Love to Read
Interestingly, nobody said they liked to get their content from Podcasts (audio). I guess it was always going to be a skewed question to ask a Newsletter audience if they preferred video or audio to written. 🤦‍♂️
BTW, have I mentioned that a Podcast is coming to Wiser!?
Reader Feedback
"Favorite email newsletter ever = NextDraft"
There's something quite grounding from a comment that talks about someone else's newsletter. 🤣 As it happens I subscribe to NextDraft by Dave Pell and also really like it. The subject focus and style is very different to Wiser! (IMHO).
To the person who left me this comment, thank you. I have a question for you. What is it about NextDraft that you like so much? Please, I'd love to know. You can email me at wiser@rickhuckstep.com (you know who you are, I don't).
---
8 out of 10 Readers Save Time and Stay Informed in Language They Can Understand
Undoubtedly the key question for me personally.
The value proposition for Wiser! is built on the idea that it will (a) do the heavy lifting so that you don't have to, and (b) keep you informed about what's happening and what's next using simple and engaging language.
It seems like Wiser! is delivering on that brand promise!
Reader Feedback:
"it answers some questions I didn't know I had"
---
4 out of 5 Readers are Willing to Share Wiser!
This is an important question to ask if Wiser! is to grow.
The biggest challenge in building a newsletter business is distribution, or discovery, depending on your chosen vernacular. If nobody is reading your stuff then it is no more than a vanity project. My mum loves reading my stuff, but that isn't enough to sustain it (sorry mum).
My takeaway from this is that the vast majority of readers (83%) see enough value in Wiser! that they are willing to share it with their network.
P.S. I'm currently looking at a referral mechanism to offer rewards for getting new signups.
---
✍️
What do you think of these results?
Let me know by putting your comments, thoughts or feedback in the comment section below. ☟ If you'd rather keep your comments private, email me at wiser@rickhuckstep.com. Whatever they are, good, bad or indifferent, I really want to hear them. 🙏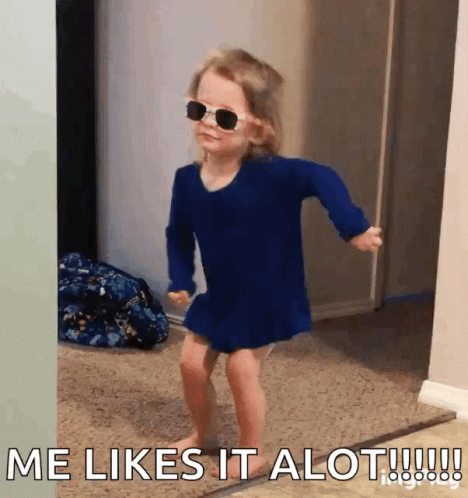 Like Wiser!? Become A Supporter
Wiser! relies on the donations and subscriptions of its readers. People just like you.
There are 2 ways that readers can provide financial support for the Wiser! Newsletter and keep the hamster wheel turning.
1) - Become a Supporter.
For €1.79/month, you can be a Supporter of the Wiser! Newsletter. You'll be making a monthly donation and get nothing extra in return, other than the personal satisfaction of knowing you're helping me cover my costs.
To say "nothing" is not quite true because Supporters will get exclusive content from time to time, or at least advance sight of it before it goes on general display.
2) - Buy Me A Coffee
Alternatively, you can say thank you by buying me a virtual cup of coffee. They only cost €2 each and you can buy as many or as few as you like. Most times, someone buys a single coffee as a way of acknowledging the value they've taken from my efforts.
Sometimes, Wiser! readers buy a year's worth of virtual coffees.
---
I use Quillbot. Check it out here.
Note: if you sign up for a paid subscription with QuillBot, I will receive a small commission.
---
w/Follow me on Social Media
More than 112,428 people follow me across Social Media for Insights and Information from the Tech Economy (whoop-di-do!😊). You get to see most of it here because you're subscribers to the Newsletter.

I'm most active on Twitter and Linkedin, however here are some other places you can find me:
Hacker Noon: A great place to find tons of content from independent writers like me.
Medium: Still the number 1 place for bloggers and writers (IMHO).
Reddit: Building a community on the Wiser! sub-reddit.
YouTube: Over 37,000 views last time I looked
Instagram: the place to make writing visual.
---