Newsletter #30 (Premium): Every year Tesla has "a day". This year, it was AI Day, and it threw up a few surprises; Robots, AI supercomputers and the verticalisation of Tesla.
---
Insights: Premium Content
The following article from the Insights Series is exclusive content for paying subscribers to the Wiser! Newsletter. If you would like to read the whole article, check out the options presented at the end of the free preview.
---
Tesla's semi-sentient robots on wheels
Love him or not, but the real-world Tony Stark, aka Elon Musk, has a way of getting the world to pay attention, even if he does say things that are often quite bonkers.
Our cars are "semi-sentient robots on wheels".
The latest event was Tesla's AI Day on August 19th (in 2019 we had Autonomy Day and last year it was Battery Day). The event was live-streamed on YouTube in front of a small group of invited guests.
AI Day was a 3-hour demonstration of the Tesla roadmap in which Musk and Team Tesla explained how they were going to make Tesla "much more than just an electric car company".
A key theme was talent and there's no doubt that Musk used this as a recruiting event for the best and the very brightest AI talent (which I can attest to because they just hired Alberto Chierici, a friend of mine and a super-smart fellow who is about to release a book any day now on AI. I've seen it and it's a must-read.)
The Bot that can't run away
The attention-grabbing moment of the day was the announcement of the Tesla Bot. This is a humanoid robot that Musk called "the next generation of automation"...which he said as he stood next to a real person dressed head to foot in white lycra with a black crash helmet on pretending to be a Bot!
But there was a very serious point to this part of AI day because the Tesla Bot will leverage the software and technology used to control a Tesla self-driving car.
As Musk talked about the Bot, code-named "Optimus", he described how it would be friendly, 5 feet 8 inches tall, weigh 125 pounds, be able to do repetitive tasks, deadlift 150 pounds and be designed so it could be overpowered by a human if necessary!
The Bot has a screen for a head to display important information and a walking speed of (only) 5 miles per hour. "it could never run away", explained Musk.
When asked how the Tesla Bot related to the company's mission, Musk replied, "Bot is not directly on the path of accelerating a sustainable energy future, but it aspirationally improves the probability that the future is good," whatever that means!
A prototype of this robot is likely to be unveiled next year.
Vertical Integration
It would be easy to let the 6 minutes or so spent on the Tesla Bot detract from the rest of the demonstration. Because there were some very important and impressive details unveiled.
Take Tesla's strategy to be the most deeply integrated car manufacturer in the industry.
The reasons for vertical integration at Tesla are surprisingly simple (just like Apple's)...it allows them greater control of supply, operations and execution, it builds a stronger moat (which is investor jargon for a competitive defence), and it allows flexibility to adapt and adjust quickly if they chose to.
The last leg in this strategy was to take control of the hardware and software components for self-driving cars (because Nvidia has been providing the chips for Tesla since 2018).
Tesla now has that capacity in-house and they have every component of the hardware and software stack under their own control. Which means that Tesla will build, run, source, sell and service every bit in and of a Tesla motor.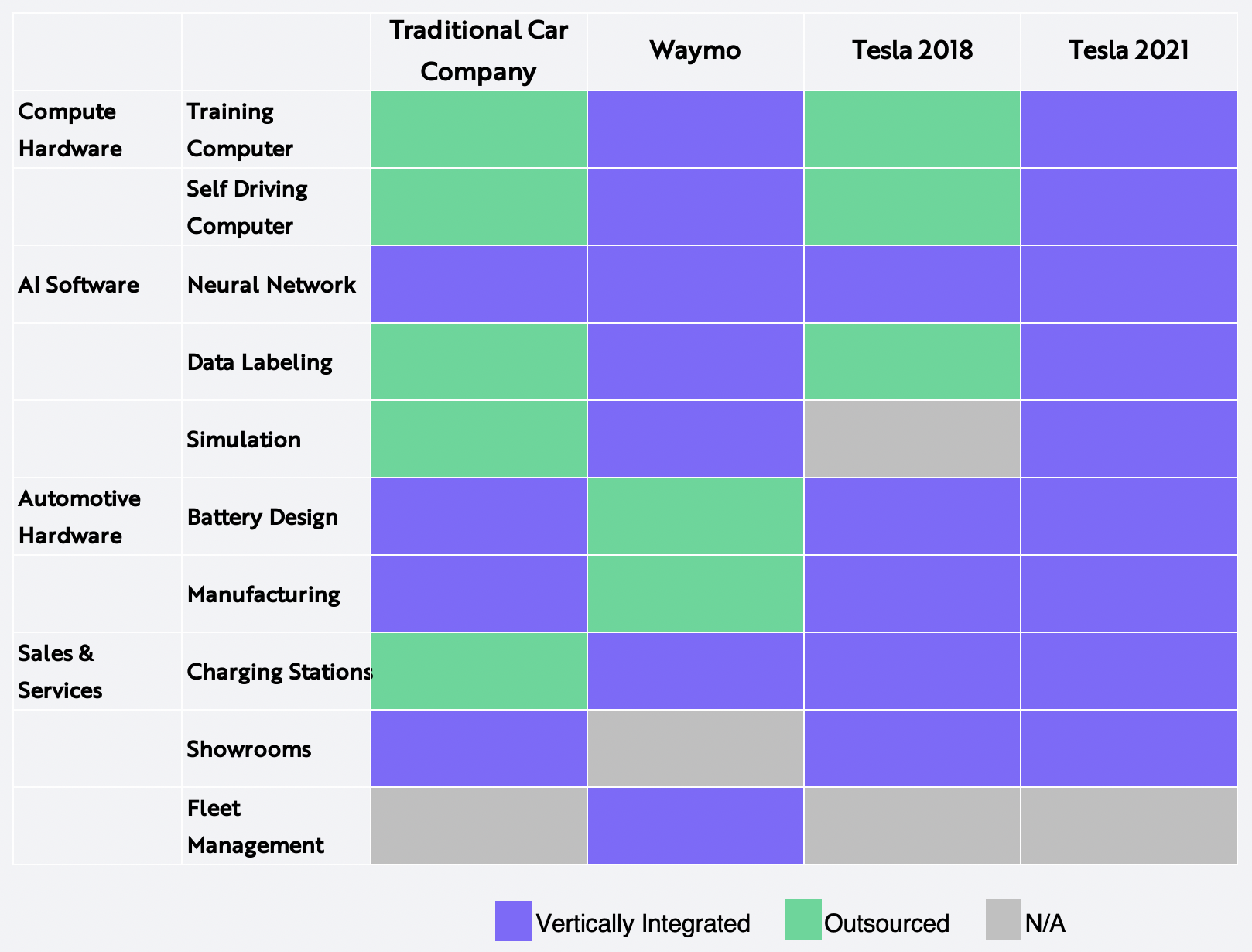 DOJO - the most powerful supercomputer in the world
Tesla also gave fascinating insights on Dojo, the name for Tesla's AI training supercomputer.  The customer built supercomputer is the most powerful supercomputer in the world and roughly twice as fast as its nearest rival.
This is due to the Tesla D1 custom-designed computer chip that powers Dojo.
This is of significance for 2 reasons.
Dojo will be the computer behind Tesla's fully autonomous driving system. Having a computer this powerful allows Tesla to handle huge amounts of camera imaging data. Tesla describes this as "creating a high-fidelity representation of the world and planning trajectories in that space".
What this means is that Tesla will process video rather than multiple single images. This is important because when you (only) process a single snapshot you hit limits in understanding motion and it is hard to predict where something is going.
In a Tesla, there will be multiple video cameras all capturing the world around them from slightly different perspectives. By overlaying the different camera feeds in a giant supercomputer, algorithms will be able to create a realistic "world view" and more accurately predict what is going on around them.
And second, because it means that by owning the entire AI stack, Tesla will be able to move faster than the competition without being vulnerable to any supply chain issues or third party's failings, leaving Tesla in full control.
Musk said that Dojo will be operational by next year. This is just as well because there continue to be concerns about the reliability of Tesla's self-driving technology. The latest is a probe into why Tesla's appear to have difficulty spotting emergency vehicles parked on the side of the road!
Here's the recording of the entire AI Day demonstration.
---
Sources:
Tesla unveils chip to train A.I. models inside its data centers. CNBC
LIVE Blog: Tesla AI Day. Teslarati
How to watch Tesla's AI day event. The Verge
Elon Musk just added a robot to his list of things always coming 'next year.' For now he's got a guy in a suit. CNN
Tesla AI Day: Five Things You Should Know. The Street
---