Wiser! #9 (Premium): Virtual Humans. Mark Zuckerberg says that Mixed Reality is the next big thing.
Perfecting human CGI, virtual influencers, and digital human art, music, and entertainment
---
Insights: Premium Content
---
"I think technology really increased human ability. But technology cannot produce compassion."
Dalai Lami
"Augmented and Virtual Reality is going to be the next major computing platform."
Mark Zuckerberg
---
PART 1 - IN THE BEGINNING…
The 2013 movie "Her" featured a lonely man called Theodore, who finds happiness and love with a woman called Samantha.
Set in the not-too-distant future, Theodore meets Samantha online after he signs up to "the world's first artificial intelligence operating system".
Although Theodore experiences a real "human connection" with Samantha, the fact is that she is not real.
Samantha is a virtual human (with the voice of Scarlett Johnson), who bonds with Theodore (played by Joaquin Phoenix) in every way, except physically (because she's not real).
But this was just a movie. And Samantha was "just" a voice.
So, the question is, how far from reality is this Hollywood version of the future?
PART 1 - QUEST FOR REALISM
It starts with the computer graphics ("GC") and the tech behind high-fidelity virtual humans.
And be clear, it's no mean feat to bring compelling real-time digital humans to life. It is technically challenging and time-consuming.
A leader in this field is Unreal Engine, owned by Fortnite-maker Epic Games. The clue here is that they are part of the $170bn gaming industry.
Unreal Engine has created a tech platform that will allow gamers to create realistic human characters. The platform allows the creators to manipulate facial features, adjust skin tone, even edit the character's teeth!
This quest for realism has focused on the most human of human features, the movement of the eyes, the flow of the hair, and the complexion of the skin.
The skin is one of the most, if not the most, complicated material to visually reproduce in computer graphics.
This is because the skin is composed of multiple layers under the skin. They're not visible to the naked eye but they all influence the skin's appearance.
As do impurities on the surface of the skin, such as dirt, dead skin and so on.
Simulating this complexity in reproducing realistic behaving skin is the challenge that separates 3D graphics (like in a Disney movie or computer game) from the realism of a virtual human.
The leaders in this field are TexturingXYZ. They have developed a tech platform called HyperSkin for graphic artists to create realistic CG skin.
Read this case study to see how they recreate these life-like images of Emma Watson.
PART 2 - QUEST FOR EXPERIENCE
It is not just the gaming industry advancing the use of tech to create virtual humans. 3D artists are also using creative technology to form artwork that is now being sold as part of the blossoming non-fungible token market.
Here is an example by Japanese artist Hirokazu Yokohara (the artist for the GIF at the top of the newsletter).
However, not all virtual humans are focused on being so realistic to the eye.
Because it seems that for many situations, the content and experience out weigh the emphasis on realism.
Last year, Fortnite hosted a live stream event with a virtual human avatar of rapper Travis Scott appearing inside the gaming world of Fortnite.
This was a totally immersive experience for the 12.3 million live streaming gamers who watched a kaiju-sized avatar of Scott looming over players and teleporting around the Fortnite gaming map in a surreal virtual concert.
Los Angeles based Sensorium, known for their virtual human performers for music concerts, has created the world's first AI-driven virtual DJ. called JAI:N (pronounced Jane).
In partnership with Mubert, the AI music platform, Sensorium is virtualising the club experience. The music is created in real-time by the virtual human DJs based on the crowd's reaction. 😕🤔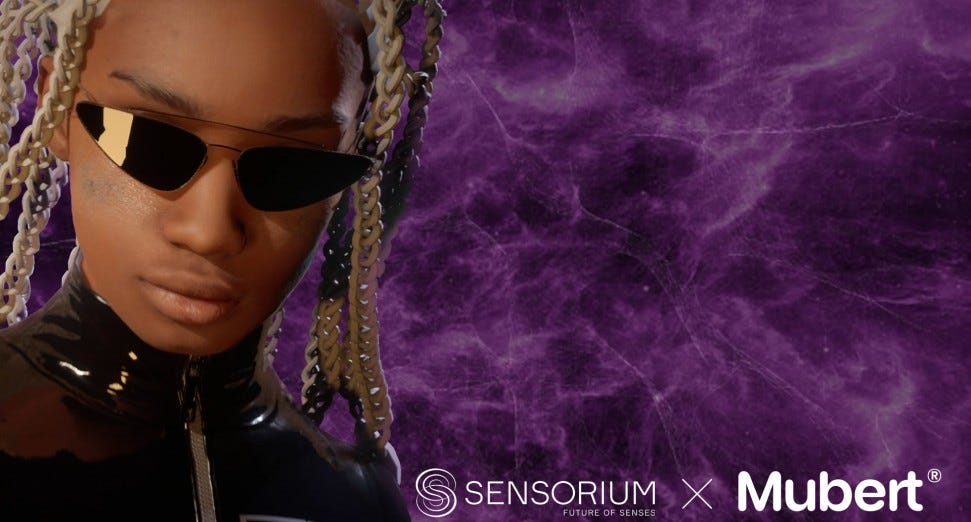 PART 3- QUEST FOR INFLUENCE
Global brands are expected to double their spending on influencer marketing to an incredible $15 billion annually by 2022.
A significant chunk of that on virtual influencers, also known as vTubers (virtual influencers on YouTube).
To be clear, a virtual influencer is a digital human character created using computer graphics software. This character has their own unique personality and the voice of a human (like Samantha in her).
The point is that they build their tribes and "influence" this loyal following on social media.
In 2020, the most followed virtual influencer globally was Lu do Magalu, who promotes Brazilian retailer Magazine Luiza. Magalu has over 5 million followers on Instagram, 1.6 million on TikTok, 2.4 million on YouTube and more than 14 million on Facebook!
However, the highest-earning virtual influencer, at around £6.5k per post, is Lil Miquela, aka Miquela Sousa.
Lil Miquela is a virtual human model believed to have generated earnings in excess of $11m in 2020.
She (it?) works with brands like Dior, Prada and Calvin Klein and boasts 3 million followers on Instagram, 2.9m on TikTok and nearly 300k monthly listeners on Spotify. (You guessed it, there's a real person behind Lil Miquela).
Watch this micky taking YouTube of Lil Miquela exposing celebrities for the (fake) robots they are.
Then ask yourself, "at what point did you stop thinking she's not real?"
PART 4 - WHERE NEXT?
Virtual humans and virtual influencers are not mainstream yet, but, IMHO, it's just a matter of time (you heard it here first folks!).
There are 2 reasons why I'm bullish on this.
The first is that the practical use cases for virtual human technology extend way beyond gaming, entertainment, and marketing.
From teaching children who don't have access to an education because they live in remote locations. Or have no teachers and schools.
To providing companionship for the elderly living at home alone. Or supporting the disabled and disadvantaged when one on one time and attention is simply not available to them.
24/7, always available customer service and support.
And the eCommerce applications are immense! (Imagine buying clothes online. Instead of second-guessing what you'll look like in the outfit, you can dress a virtual avatar of yourself in the actual garment and see it for yourself. It totally redefines "try before you buy"!)
The second is that Apple, Facebook, and Microsoft are all making significant investments in the virtual tech space.
As I covered in last week's issue of Wiser!, Microsoft has just scooped a massive $21.8 billion contract to develop AR headsets for the US Army. That's a lot of R&D funded by the US taxpayer!
And Apple is about to launch its own mixed reality headset, the first major new product launch since the Apple Watch in 2015. (More about this here).
Facebook has around 10,000 people working on its AR and VR technology. That is a huge investment in human capital and accounts for around 20% of Facebook's global workforce.
The combination of augmented and virtual reality tech with realistic computer graphics and AI is going to enable a new generation of innovations you can hardly imagine.
Virtual humans will create storytelling and human (sic) interaction opportunities that have never before been possible before, with the ability to transport audiences back to any point in history, to speed up time, to slow it down, to break the laws of physics.
The only restriction will be the creativity of the storyteller, not the tech.
---
---
This article is Premium Content. It sits behind the paywall and is for your eyes only. However, if you liked it and want to share this email, then please, be my guest.
I only have one ask of you in return. To ask the recipient to sign up for the newsletter.
If you found this article of value and want to show your appreciation, you can buy us a coffee for a couple of €s and help keep the hamster wheel turning.

---
Sources of Relevant Interest
Video discussion on the Rise of Real-time Digital Humans, Source: The Pulse
NFTs and a creative and artistic renaisance Source: deZeen
10 Great films about life in the digital age
Featured article on Augmented Eternity in Wiser!
The Top 15 Virtual Influencers for 2021 Source: Influencer Marketing Hub
Interview with VP Digital Humans, Epic Games Source: Virtual Humans
The virtual influencers making millions. Source: Cybernews
The world's first celebrity virtual human. Source: Press Release Japan