Newsletter #73: This week I'm covering the latest on the Elon Musk and Twitter story, Peloton's latest efforts to grab our attention. And the minimum age for social media use and why it's important.
w/Issue #73 - 15th April 2022
Welcome, Wiser! friends. You're amongst 8,562 like-minded subscribers who want to know what's happening and what's coming next in the digital economy.
This week I'm covering the latest on the Elon Musk and Twitter soap opera, Peloton's troubles and the minimum age for social media. Plus, it's Easter in Spain. If you've never seen it, I'm going to show you what happens.
---
w/SocialMedia
"Twitter has extraordinary potential.  I will unlock it." Says Musk
Back Story: The world's richest man-child, Elon Musk, has Twitter in his sights. And he wants it!
In (just) a fortnight, Musk has;
The latest news is that Elon Musk wants to buy Twitter. Something that will cost him around $39 billion.
On 13th April, Musk filed an SEC return that confirmed his offer to buy Twitter. A day later, tweeted this:
I've just read the SEC filing and it includes Musk's letter to the Twitter Chairman, Brett Taylor, Musk wrote:
"I invested in Twitter as I believe in its potential to be the platform for free speech around the globe, and I believe free speech is a societal imperative for a functioning democracy.

"However, since making my investment I now realize the company will neither thrive nor serve this societal imperative in its current form. Twitter needs to be transformed as a private company.

"As a result, I am offering to buy 100% of Twitter for $54.20 per share in cash, a 54% premium over the day before I began investing in Twitter and a 38% premium over the day before my investment was publicly announced. My offer is my best and final offer and if it is not accepted, I would need to reconsider my position as a shareholder.

"Twitter has extraordinary potential.  I will unlock it."
In an extraordinary move, Musk also included a text message to the Twitter Chairman in his SEC filing. He wrote:
Best and Final Offer
a. I am not playing a back-and-forth game.
b. I have moved straight to the end.
c. It's a high price and shareholders will love it.
Musk went on to express his lack of confidence in the current management. More significantly he explained that he did not believe he could change Twitter the way he wants to with them in place.
He also states clearly that his intention is to take Twitter private and turn it into a "free speech" platform (whatever that means in Elon speak).
But the one unanswered question is: Why?
Why is the world's richest man turning his attention to this?
w/Related:
---
w/AttentionEconomy
What's Going On At Peloton?
Back Story: Peloton had a great ride (excuse the pun) during lockdown. The stock went from $23 to a high of $163 in 2020. Then the world started its return to normal, gyms re-opened and people started going out.
The stock has now fallen back to where it started ($25 on 13th April).
Peloton has also taken some missteps. They encountered significant supply chain issues and massively overestimated the demand for their bikes in 2021.
In February this year, the company replaced the CEO (with Barry McCarthy, former CFO of Netflix and Spotify). They also let go as many as 5,000 staff, shut 15 retail stores and reduced their sales and marketing by 40%.
Controversy: But, the most controversial move by the former CEO, John Foley, which contributed to his ousting, was to sell $50 million of Peloton stock to Michael Dell's MSD Partners at a 12% discount.
However, the change in leadership has not settled investors. As I put this piece to bed, Peloton's market cap is now (only) $7.8 billion, down from its market valuation of $50 billion just 16 months.
Activist investor Blackwells Capital, who owns 5% of Peloton, are unhappy. They were unhappy with the previous CEO and now they are critical of the new CEO saying that he hasn't gone far enough.
Bottom line is that they want to see a trade sale. With Apple being the most hotly tipped preference. Which makes a ton of sense given Apple's pursuit of our attention and their strategic shift to subscriptions and services.
Meanwhile, Peloton has launched a new product called Guide, slashed hardware prices and increased subscription fees. It's all a bit of a mess and Blackwells are making a lot of noise.
w/Related:
---
w/Promotion
Double your productivity using this AI writing tool. Here's how I use it.
---
w/MyLife
How Easter is Celebrated in Spain
If you didn't know, I live in Spain.
Now, I am not a religious person. I never have been and don't think I ever will be. However, putting to one side whether you believe in God, Jesus, the Bible, and all that stuff, I have seen first-hand the sense of community, identity and social cohesion that comes with the religious package.
It is hard to explain in words, especially for an atheist Brit like me who has never experienced "religion" in this way before. I'm hard-pressed to think of any equivalent celebrations in the UK.
You have to see it to get it. The thing is that I admire the "community" that comes with the "religion".
So, I've put a short post together with a series of photos that I've taken over the past 5 years. And a couple of videos I shot last night. They are snapshots of Semana Santa in my town, Ayamonte and the neighbouring town of Huelva.
It's nothing to do with the tech economy. But I love it and I thought you'd be interested to see it.
---
w/SocialMedia
Time To Raise the Minimum Age For Social Media
Beggars belief: A recent survey from Ofcom, the UK's communications regulator, reported that a third of parents said their kids aged 5-7-year-olds had a social media profile. For 8-11-year-olds this is as high as 60%.
The thing is that the minimum age requirement for social media is 13!
The Children's Online Privacy Protection Act (COPPA) was passed in 1998 to protect children under the age of 13. Before collecting any personal information from a child, operators of websites and online services are required by law to get the consent of a parent before collecting that child's name, address, phone number, and screen name.
Further, to protect the privacy of children, sites are prohibited from collecting geolocation data, using cookies, tracking IP addresses, and using unique device identifiers for advertising purposes.
Problem: But COPPA doesn't function if a 9-year-old pretends to be 13-years-old.
Thirteen is generally considered the age when kids start to develop a cognitive awareness of such things as "danger" and "ethics". Kids under the age of 13 have a tough time comprehending the consequences of their behaviour.  
The long and the short of it is that pre-teens are particularly vulnerable to putting themselves in harm's way. They have not developed a sense of danger that protects them from possible harm.
According to the
Human Trafficking Institute
, in 2020, 59% of human trafficking in active sex trafficking cases occurred on Facebook. They also found that 53% of under 18s were children.
Irrespective of where you stand on kids spending time on their devices instead of kicking a tin can down the street, the data is pretty clear. Being online can be a dangerous place for a child.
To test what my readers thought, I posted this question on LinkedIn...do you agree/disagree? Post a comment at the bottom of the webpage and start the debate.
Source: Ofcom
---
w/InOtherNews
Apple Gives Generously to Support Earth Day
Apple is donating $1 to World Wildlife Fund for every Apple Pay transaction that takes place in Apple Stores, on the Apple Store app, or on Apple.com until April 22nd. Which happens to be Earth Day. Source: Apple Insider
TikTok's Ban in Russia Isn't Working
TikTok is still running in Russia, although TikTok has banned all new postings and blocked citizens from seeing content posted outside of Russia. But it's not working. Kremlin-controlled media outlets are still posting fresh propaganda promoting Russia's war in Ukraine, helping Putin enforce his narrative that Russia's invasion was justified. From when the ban took effect to April 5, nearly 93.5% of all war-related TikToks in Russia were pro-war, and only 6.5% anti-war. Before the ban it was roughly 60:40 in favour of the war. Source: Morning Brew
TikTok is testing a Dislike button. Users will be able to show their disapproval for comments they dont like. But only TikTok can see them because the platform does not want to spread negativity on the platform.
Meta's Cut is 47% on Virtual Asset Sales in its Metaverse
MetaFacebook's 47.5% cut includes 30% for sales made through the Meta Quest Store, where it sells apps and games for its virtual reality headsets. On top of that, Horizon Worlds, will charge a 17.5% fee. Meta's fees for the sale of virtual assets on Horizon Worlds are significantly more than the 30% Apple charges developers on its App Store. Source: CNBC
AI Creates Art
Not-for-profit AI research lab, OpenAI have created an artificial intelligence that can "take any text and make an image out of it". Just using the words "an astronaut", "riding a horse", and "in a photorealistic style," DALL-E2 produced this image. Source: VentureBeat
#EtsyStrike: When You Own The Rails...
...you get to dictate the price of riding them. This is what Etsy sellers are facing as the arts and crafts e-commerce site announced an increase in its transaction fees. In an act of protest, sellers are temporarily deactivating their stores and urging customers to boycott Etsy. Source: Daily Dot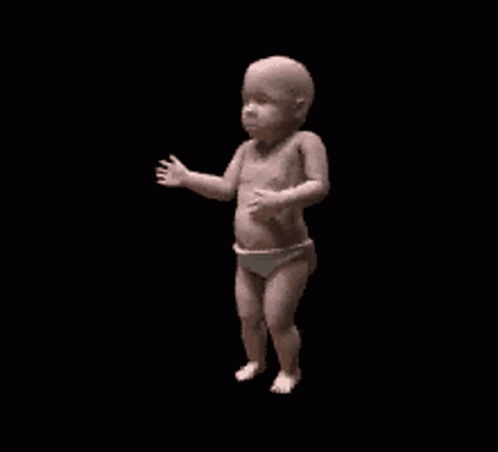 Dancing Baby: Cyberspace's First Cringe Meme
Remember this? Dancing Baby is now considered one of the earliest internet memes, if not THE first one. Created in 1997, it's still popping up across the Internet. Read this history of the Dancing Baby. Source: Daily Dot
What Happens When A Cop Pulls Over a Driverless Car
Some Stats
Stripe processed over $640bn of payments in 2021, up 60% YoY.
Sky News has 1m TikTok followers.
The amount of money spent on cyber insurance doubled to $15 billion last year.
---
w/Wiser! Community
🚀
Stay One Step Ahead of Your Competition.

Understanding What's Happening and Knowing What's Next are the cornerstones of Competitive Advantage.

Join fellow professionals to be better informed and Give Yourself the Leverage to Stay One Step Ahead of Your Competition.

➣ Closed Network of Professionals
➣ Ask The Experts for Insights and Information
➣ Exclusive Member Only Discord Channel
---
w/Read/Watch/Listen
I'm Reading
In this long read from Wired, they tell the story of the "Bitcoin Bust". A case that took down the web's biggest child abuse site. The criminals thought their crypto payments were untraceable. They couldn't have been more wrong. It's a horrid subject, but dispels the myth that Bitcoin is untraceable. Source: Wired (Warning: this article includes references to child abuse and suicide.)
Ai Supremacy
This newsletter is one of a collection written by the most prolific author I know. Michael Spencer provides long-form, content-rich insights that offer a unique perspective. Highly recommended!
I'm Watching
I just finished Season 6 of Peaky Blinders. Hugely disappointed and massively underwhelmed. Apart from the opening episode, which was great, I fell asleep during episodes 2, 3 and 4. Drank coffee all the way through episode 5. Thought episode 6 set the series up for a fantastic finale...only to find that episode 6 WAS the finale. A clear sign that the show has run its course. Please, no more!
I'm Hearing
The Crypto Economy is big and complex. Navigating your way around this multi-faceted ecosystem is a challenge. This podcast will go some way to answering questions, such as: What does 'web3' mean, what might it mean, how do we ignore the noise, and what questions might matter? Source: Another Podcast
---
w/InCaseYouMissedIt
---
---
w/Donate
☕️ Wiser! is a free newsletter thanks to the donations of readers like you. It is easy and quick to make a small contribution to the costs of running Wiser! Use this link to BuyMeACoffee.🙏

---
w/AboutWiser!
w/FollowMe
Join the 112, 487 fellow professionals who follow me across Social Media for Insights and Information from the Tech Economy.

I'm most active on Linkedin.

Other places you can find me:

YouTube: Over 37,000 views last time I looked
Twitter: Did you know that 50% of Twitter users are lurkers (they only look).
Medium: A great place for bloggers and writers.
Reddit: I'm still figuring out how to build a community on the Wiser! sub-reddit.

---
😍
Did you enjoy this issue of Wiser!?
If so, please forward it to a colleague or a friend. It will only take you 10 seconds to do it. Writing it took me 10 hours. 🙏
✍️
Please leave a comment
Let us know what you think about this subject by putting your comments, thoughts or feedback in the comment section below. ☟
---