Wiser! #19: Amazon's employee nightmare whilst 1% tax paying CEO Jeff Bezos prepares for suborbital flight. Plus Crypto, Bitcoin, Tesla, AgeTech and HealthTech
---
---
In this issue:
Amazon and Bezos under the spotlight
Cryptocurrency: A sound institutional investment or the Wild West?
Samsung's stretchable electronic 'skin' can detect and display your heartbeat
The giant heads of 'Mount Recyclemore'
AgeTech and the rise of wearables to look after the elderly and infirm
Amazon brings its cashierless tech to a full-size grocery store for the first time
Tesla makes more money selling regulatory credits than from making vehicles
---
Amazon and Bezos under the spotlight
Amazon made the equivalent of three years worth of profits in 2020.
Thanks to their tech-infused network of trucks, planes, warehouses…and staff.
The Amazon machine responded to the pandemic by worked pretty much continuously, keeping up with the unprecedented increase in demand.
(Toilet paper sales were up 186% between March and April 2020!)
To meet the demand, Amazon hired more people in the shortest time frame than any American corporation in history.
However, according to a nine-month investigation by the New York Times ($), they found that Amazon's system of managing workers broke down.
Entitled "The Amazon that customers don't see", the article gave 5 key takeaways;
Amazon has been churning through employees at around 150% a year. To put that in context, it means replacing the entire hourly workforce every eight months.
Computer system errors caused some workers to lose their benefits, and even their jobs, in error. The issue stems from the way that Amazon evaluates workers like machines, with automated systems that track productivity, benefits, overtime assignments, firings and more.
Amazon's strict monitoring of workers has stoked a culture of fear. During an appearance on "CBS This Morning," following the report in the NYT, the soon to step down CEO, Jeff Bezos, expressed his preference for employee turnover because newer employers are fresher. The NYT also reported that Bezos intentionally limited upward mobility in the warehouses.
There is rising concern over racial inequity. The day after the NYT published their report, Vox's Recode reported dozens of detailed allegations of racial bias and discrimination on the job. With a big finger pointed at the company's HR department.
Amazon's most contentious policies are linked to Bezos' original vision. The Amazon founder famously said the company's goal was to be the "Earth's most customer-centric company." And the implication here is that in chasing this single focused pursuit of delighting the customer, it came at the expense of just about everything else. Especially the staff.
Maybe sensing that this was coming, Bezos wrote in his most recent, and what will be his last shareholder letter (April this year) that there's work to be done. "We need a better vision for how we create value for employees — a vision for their success", he said.
World's richest man + a space ship = mid life crisis?
Ironically, this comes at the same time that Jeff Bezos is in the news for different reasons.
First, Bezos has confirmed that he (with his brother) will be passengers on the first ever manned space flight for his Blue Origin space exploration company.
They will also be joined by an unnamed bidder who pledged $28 million in a live auction for a seat on the inaugural flight.
The flight is scheduled for 20th July to coincide with the anniversary of the 1969 Apollo 11 moon landing.
Blue Origin has a reusable rocket ship, called New Shepard, which is capable of taking six passengers to the edge of space. There are no pilots for this 11 minute flight that fires the passengers to an altitude of about 100 kilometers.
This is known as the Karman Line, where Earth's atmosphere ends and space begins.
To find out more about the space race between Bezos, Elon Musk and Sir Richard Branson, read the WiserIn5! feature article (€), or watch the YouTube video that goes with it.
Bezos apparently pays little or no income tax
Bezos was also in the news after leaked IRS tax documents appeared to show that the super rich don't pay much, or any, income tax.
The leak from ProPublica named Bezos, Elon Musk and Warren Buffet amongst the 25 uber richest men (they were all men) in America.
The issue is that when you have so much wealth, you don't need an income, which means you don't pay any income tax. (Facebook's Mark Zuckerberg has a salary of $1, as did Steve Jobs at Apple).
Apparently, the uber wealthy can take loans out against their immense stock portfolio at ridiculously low interest rates, and then live off the loan. No tax owing!
This comes less than a month after it was reported that the US Govt, via NASA, are to give Bezos' space company, Blue Origin, a "$10 billion bailout".
It's alright for some!
By way of contrast, MacKenzie Scott (ex wife to Bezos and the co-founder of Amazon, who also happens to be the 20th wealthiest person in the World) announced that she is giving away another $2.7 billion to 286 organisations. To date, Scott has given away around $8 billion (c15% of her wealth) to organisations that work in communities and make society a better place to live. Source: NPR
Sources: Poynter, Axios, New York Times ($), MotherJones, The Verge
---
CryptoCorner
A sound institutional investment or the Wild West?
In the very first issue of Wiser! I included a piece on CEO Michael Saylor's big bet on Bitcoin.
Saylor is the CEO of MicroStrategy, a cloud software company, and a massive believer in Bitcoin.
Earlier this year he spent over a $1billion in MicroStrategy cash to buy Bitcoin and put it on their balance sheet (before Elon Musk followed suit at Tesla).
MicroStrategy have continued this strategy to build their balance sheet around the cryptocurrency. And now, Saylor is looking to put even more Bitcoin on the books.
Just last week, he sold $500m of corporate debt to buy Bitcoin. And now he's filed plans at the SEC to raise up to a $1 billion by issuing new stock so that he can buy even more Bitcoin for the balance sheet.
Currently, MicroStrategy holds around 92k Bitcoins. This is worth around $3.7 billion at today's prices.
It's a bullish move and both MicroStrategy and Tesla are playing a risky game putting such a volatile asset on the balance sheet.
The issue is "impairment" due to the way that Bitcoin is classified for accounting purposes.
This is where the value of the asset has gone down and the accountants report a loss. Last week MicroStrategy said it expects to report a loss of $285 million for the current quarter on its Bitcoin investments. Tesla just did the same, albeit a smaller in their financials.
Which way is Bitcoin going to go?
Elon Musk continues to play the social media hype game when it comes to Bitcoin.
Last Sunday he tweeted that Tesla would resume taking Bitcoin as payment for cars and the price jumped 10%.
But, he said, they'd only take Bitcoin once the industry could show it was 50% users of renewable energy. Quite how he expects to satisfy that test is unclear.
Cynics might say that it is just another attempt by Musk to manipulate the markets, but I couldn't possible comment!
In the week that El Savador became the first country to adopt bitcoin as legal tender, the bookies seem to think Bitcoin is going down.
US betting platform US-Bookies.com have cut the odds to 8/11 that Bitcoin will fall to $10k this year. A price it hasnt seen since October 2020.
Whereas the consensus amongst Futures traders is that the price will end the year around $37k. Which is roughly where Bitcoin is hovering today.
And with approximately 1,183 days to go until the next halvening event (each of the previous halvenings have preceded a significant jump in Bitcoin price) it seems me that the Futures traders have got it about right.
Crypto Wild West
On the crypto flip side, a story from earlier this week is the sort that gives cryptocurrency a bad name.
On Monday, a token called WebDollar (launched in 2019) saw its trading price sky rocket over 164,000% before returning to earth in less time then Bezos will fly to the edge of space and back!
In just 3 minutes, its market cap went from $1.8 million to $1.5 BILLION, making it the 18th most valuable crypto for a fleeting moment, even though there is little to suggest the utility for this coin is anything of significance.

Over a 3 hour period of significant trade yo-yo'ing, the price of WebDollar rose from around $0.0004 to $0.71, before collapsing back to where it started.
As I write this article, the coin is now ranked around 950 in the crypto market cap league table.
And the takeaway from this story…
This looks like an incredible pump and dump, fuelled by significant automated trading volumes over a short period of time, largely through an unknown UK-based exchange called IndoEX.
The headline of 164,000% growth is a huge magnet for the uninitiated looking for a quick buck.
This reminds us that we are in an unregulated market. Until this gap is closed, cryptotrading will continue to look like the Wild West (sadly)!
---
Please help us keep the servers running and the software up to date, so that we can carry on saving you time and keeping you informed.

A great way to help us is to make a small donation on our page at BuyMeACoffee.com.

Each coffee only costs €2 and you can buy as many as you want. All donations go towards making Wiser! a great Newsletter for you.

BUY 3 COFFEES AND GET 1 MONTH FREE PREMIUM MEMBERSHIP


---
Snippets of Insight and Information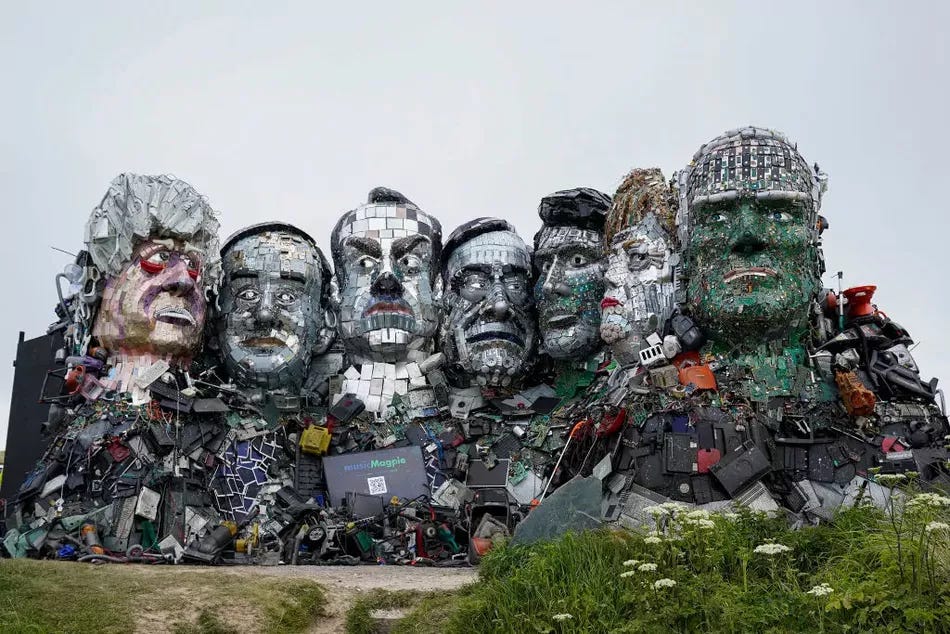 The giant heads of 'Mount Recyclemore'
A Mount Rushmore-inspired sculpture of the G7 leaders was constructed in Cornwall entirely from electronic waste to draw attention to the need to reduce e-waste.
According to the Global E-waste Statistics Partnership, approximately 53.6 million metric tons of e-waste was generated in 2019. That number is expected to grow to 74.7 million metric tons by 2030.
E-waste releases toxic chemicals into the environment such as lead, mercury, and arsenic, with terrible consequences both for the ecosystem and our own health. Failure to recycle and reappropriate resources from e-waste also means more must be mined to make new electronics,  creating more greenhouse gases. Source: Mashable
AgeTech and the rise of wearables to look after the elderly and infirm
CarePredict is a Florida based AgeTech company in the wearables space. They have produced a watch-like device that monitors the behaviour of the elderly.
They apply AI to learn and follow their daily habits and routines. And can raise alerts to carers and family if the tech detects a reason for concern. Such as eating motions are not detected, or if the person hasn't gotten out of bed. The tech also monitors their sleep and then even have a patent for tech that can infer whether someone is "using the toilet". Source: The Guardian
Amazon brings its cashierless tech to a full-size grocery store for the first time
The idea is simple. You walk into your Amazon grocery store, select the JustWalkOut option, do your shopping as normal and then Just Walk Out! The tech uses overhead cameras, visual AI and pressure sensitive shelves to automatically detect what shoppers put in their carts. It then charges your account based on what the tech thinks you've bought. Source: The Verge
Tesla makes more money selling regulatory credits than from making vehicles
Tesla earns money by selling "regulatory credits" to other car makers. In fact, Tesla has consistently made more money from selling these credits than from selling their own cars! These other car manufacturers need help complying with their emissions standards around the world, which they meet by buying the excess that Tesla doesn't need to meet theirs. Source: Bloomberg
Samsung's stretchable electronic 'skin' can detect and display your heartbeat
Samsung says it has developed stretchable skin technology with a built-in electronic display. Inside this wearable tech, they have a heartbeat monitor, similiar to the type you find in an Apple Watch.
Notably, the electronics giant is convinced that its trials can pave the way for the commercialisation of stretchable devices with large, high resolution screens, which it expects to crop up in all manner of healthcare products. Source: Engadget
---
Just The Headlines
Apple has announced a mandatory 3 days in the office a week policy. Employees are not happy. Source: The Verge
With 1 in 3 US households on this app, is Nextdoor the next big social network. Source: Axios
Tim Berners-Lee has put the code for the World Wide Web up for auction as NFT. Source: Reuters
Facebook plans first smartwatch for next summer with two cameras, heart rate monitor and a detachable camera. Source: The Verge
Big brother Report: which companies track our personal data the most? Source: Clario (spoiler alert….Facebook are the worst!)
---
The Wiser! YouTube Channel
Every week, after the Wiser! newsletter is posted to you, I make a video of the same article and post it on YouTube.
This allows me to add visuals and video clips to illustrate the content and bring it to life in a way that's not possible in written form.
The latest video is about Apple, Amazon and Google in the healthcare space and is up on the Wiser! YouTube channel now.
---
Two newsletter Apps that will make your life easier
1) Try this free service from The Sample.
You tell it what you're interested in and the algorithms will find newsletters that match your preferences.
And send them to you.
2) Then try this from Slick Inbox.
This is an app that gives you a unique email address. This way you can forward all your newsletter subscriptions to the Slick Inbox and not clutter up your email Inbox.
Slick is in beta mode but is stable and works. I'd be lost without it!
I use both of them!
---
Please share this newsletter on your social media feeds - it helps us grow!
And if you'd like to show your appreciation for this free newsletter and buy us a coffee for a couple of €s, click here and help keep the hamster wheel turning.

---
Till next week…have a great weekend, Rick
And remember;
Insight and Information gives you Leverage!