Wiser! #2: Founder interviews with Bunch and Leadspicker. What's the fuss about Clubhouse? Elon Musk reads Wiser! And many more insights and information from the tech economy
Hard evidence that Elon Musk reads Wiser! Plus founder interviews with Neeva and Leadpicker, some Clubhouse and a salad making robot called Sally.
Issue #2 - February 15th, 2021
In this issue:
BUNCH - the AI coach building leaders one power-skill at a time
Bunch is an AI enabled coaching app. It's a powerhouse packed with wisdom, expertise and insights that fits into your lifestyle. It works like this.
You load the app onto your iPhone (iOS only at the moment). The digital coach then asks you some questions and collects insight about what you like, what you are looking for and how you want to work. This is to avoid what is known as a "cold start" (that's why Spotify asks you what your music preferences are when you first sign up).
Then, for about 2 minutes every day, the Bunch app will give you a coaching tip, guiding you through the advice, explaining the what, why and how. It ends with a simple questionnaire with 3 options of what action you would take.
This is where the AI comes in, because Bunch has now learnt something about you. The algorithms use this insight to decide which coaching tip to give you next. This is personalised, lifestyle, leadership coaching on your mobile phone.
And to find out more, I spoke with Darja Gutnick, the co-founder and CEO of Bunch. You can read the article about our conversation here.
---
Insights
What's all the fuss about Clubhouse?
Have you got your invite yet? In a smart promotional move under the guise of "we're still in beta", Clubhouse membership is still 'invite only". Throw in a few famous names (Musk, Zuckerberg, Robinhood), let network effect take over and, bam, you're up to a few million users within months.
Launched in the 2nd half of last year, the number of app downloads hit 1 million by Christmas. In January that number more than doubled to 2.2 million in that month alone. Outside of the US, the largest user numbers are in Germany, Japan and the UK. It was gaining traction in China too… until it got banned there!
So, what's all the fuss about?
I've been on Clubhouse for about a month and have been dipping my toe in most days. I see the appeal, a lot of it driven by FOMO.
For the uninitiated, Clubhouse is an audio based, social media app that allows people to drop in and out of organised or random conversations that others are having. It's like being in a playground or at a giant trade show where you're walking around, surrounded by groups of people chatting about all kinds of stuff. You get to stand to the side, listen in, and occasionally say something. You dip in and out as you chose.
That's Clubhouse.
Only, it's 100% digital, virtual, online and without the free pens, squeegee balls and giveaways you get at a conference.
There's no doubt that Clubhouse is a product of the pandemic. And no coincidence that the rise of Clubhouse coincides with the current wave of lockdowns that are keeping people at home.
The question about whether it will stick and become part of the social media fabric, or burn out as the novelty factor wears thin will be answered in time. Will it be as effective when everyone is back at work, going out, playing sport, socialising and mixing, is a key question they've not had to answer yet. For me the jury is out on this one.
I hope it carries because I like Clubhouse, but then again I like podcasts, talk radio and listening to people talk. If you're interested in Clubhouse and want an invite, I have a few to give away. Send me a message and I'll get you in, first come and all that!
Articles of interest:
Clubhouse crosses 3 million downloads, Business of Apps
Blocked in China, TechCrunch
Clubhouse App for Business, Social Media Examiner
---
Original Content
LEADSPICKER - the tech enabled prospecting machine
When there are no trade shows, exhibitions or conferences, what do you do about prospecting for sales leads? Or, when client entertaining, hospitality or face to face customer meetings are distant memories? How do you generate leads?
These are all questions that have risen to the top of the sales and marketing agenda in the era of the pandemic. Social distancing and lockdowns have simply put an end to many of the traditional ways of drumming up business.
Which is what drew me to Leadspicker, a digital solution that automates prospecting and lead generation.
Based in the Czech Republic, Leadspicker use machine learning, openAI's GPT-3 natural language processing engine, and process automation (plus a sprinkling of human intervention) to turn prospecting into a digital operation.
For those unfamiliar with GPT-3, it is an artificial neural network that generates text using algorithms that have been pre-loaded with over 570gb of publicly available text gathered by crawling the Internet. What this machine can do is to answer questions, write essays, summarise long texts, translate languages, take memos, bake a cake and make a fine cup of tea (it can't do the last 2, I added the cake and tea bit.)
GPT-3 isn't generally available yet and Leadspicker were one of a few hundred selected developers to have been given early access to work on the AI platform.
I recently jumped on a zoom with the founder of Leadspicker, Vlastimil Vodicka. We had a great chat and you can read the full article I wrote about Leadspicker here.
---
Snippets - the wisdom & insights of others
Elon Musk reads Wiser!
I believe it to be true because, in the last issue (in fact, the only issue), I wrote about MicroStrategy and how CEO Michael Saylor had put $1bn of their balance sheet into Bitcoin. Within days, Tesla followed suite and put $1.5bn (about 8% of their cash) into Bitcoin and onto their balance sheet. Tesla bought at a price point of around $34k/BTC. At the time of writing, Bitcoin was up around $47k. That's the way to make half a billion dollars in a month! Source: CNBC
Are Google about to disable Australia?
As Australia contemplates forcing social media firms to pay local publishers a cut of their ad revenues for using their content, Google has upped the ante. They're threatening to disable all Google services for Australia. That's no email, maps, videos, docs, photos, basically the entire lives of every day Australians (well not quite, but you get my point about a life without Google). Go here for a related story about Neeva, the soon to launch subscription based search engine. Source: Bloomberg
AI just took a big step forward with announcement of MuZero
Imagine sitting down to play chess for the very first time, you don't know the rules, and you're up against a Grand Master. That's exactly what AI system MuZero can do. MuZero is the creation of Deepmind in the complex strategy space. This is where algorithms are used to solve problems without knowing the rules. This is probably the most significant development since AlphaGo in 2016. Source: Deepmind
Ghost Kitchens and a salad making robot called Sally
San Francisco based Chowbotics have developed a robotic salad bar, a kind of vending machine for lettuce and tomatoes. No human's are involved in the serving of the green stuff, which has proven particularly effective in the pandemic. Chowbotics are about to be acquired by the recently IPO'ed DoorDash, who are no strangers in the robotic food delivery service space having partnered with Starship Technologies. Source: TechCrunch
Talking of robotics, could eyelash extensions be applied by a robot?
Well, this California based start-up think so. Called Luum, their goal is to combine robotics, AI and machine learning to apply lashes in 20 minutes. They envision a nationwide chain of walk in centres so that you can have your new lashes applied while you wait🙂  (I put this story in for one of my daughters, you know which one you are!) Source: TechCrunch
Using your Apple Watch to predict Covid-19
Researchers at the Mount Sinai School of Medicine found that the Apple Watch can detect subtle changes in a wearer's heartbeat, and this can be a sign of the early onset of Covid. The convergence of wearable tech and telehealth is definitely a trend to watch and a subject I will be looking into for future issues. Source: Mount Sinai
Creating apps without knowing how to write computer code
The rise of No-Code platforms is not only taking the IT department off the critical path, they're taking them out of the loop all together! The point of no code platforms is to make app building accessible to anyone without technical skills. No code tools like Adalo, Glide, Webflow and V.One have a drag and drop interface that make it easier to build apps and websites without a technical background. Source: Courier
ELSA, an AI-powered English learning language app
There are about 1.5 billion people who speak English in the world. But, around two thirds of them are non native speakers of the language. They say the right words, but with the wrong accent!  In regions such as Southeast Asia and Latin America, English speakers earn 2-3x more than non-English speakers. For them, help is on the way in the form of ELSA, an AI powered app that uses speech recognition technology to correct pronunciation. Source: The Hustle
Dipping into the archives as Oscar Health files for IPO
I saw the news last week that Oscar, the New York based, digital health insurer, had filed for an IPO. It caught my eye because I first wrote a piece about Oscar in May 2015, when they were 3 years old. Oscar was a product of the Obamacare era and have navigated their way through the last 4 years of the Trump administration's undoing of it. With President Biden in charge, they now see the timing is right to go public. Find the article from the archives here: LinkedIn
$97m a year from YouTube, are you having a laugh?
Watch and learn how Mr Beast earns nearly $100m a year from playing games, making silly videos, merchandising, endorsements and giving stuff away. I'm not sure this scores very high on a value creation index, but he does now employ about 30 people, and it is certainly lucrative, and just goes to show the commercial power of the network effect. Source: Youtube
---
The stuff that I am Reading, Listening, Watching
Reading
Currently reading The Choice Factory: 25 behavioural biases that influence what we buy, by Richard Shotton. It's a quick and easy read with lots of anecdotes and stories to illustrate the biases that influence our every day decision making. A good intro for anyone starting out in sales and/or marketing.
Since the last issue, I wrapped up If Then: How one data company invented the future, the book by Jill Lepore. It's the story of the Simulmatics Corporation. I was fascinated by the idea that in the late 1950s/1960s, data scientists were exploiting the new technology of commercial computing to understand, predict and manipulate human behaviour. This could have been written about Big Tech now, let alone 60 years ago!
Listening
What is almost certain to be Podcast of the Year 2021 is this one from Almost Founders, where they talk 'Sales and customer motivation" with SalesClub founder Rick Huckstep (that's me).
My current favourite "can't get this out of my head" tune is Aime Huckstep's new single One to Lose with Chris Meechan. (Aime is my brother's daughter BTW).
Watching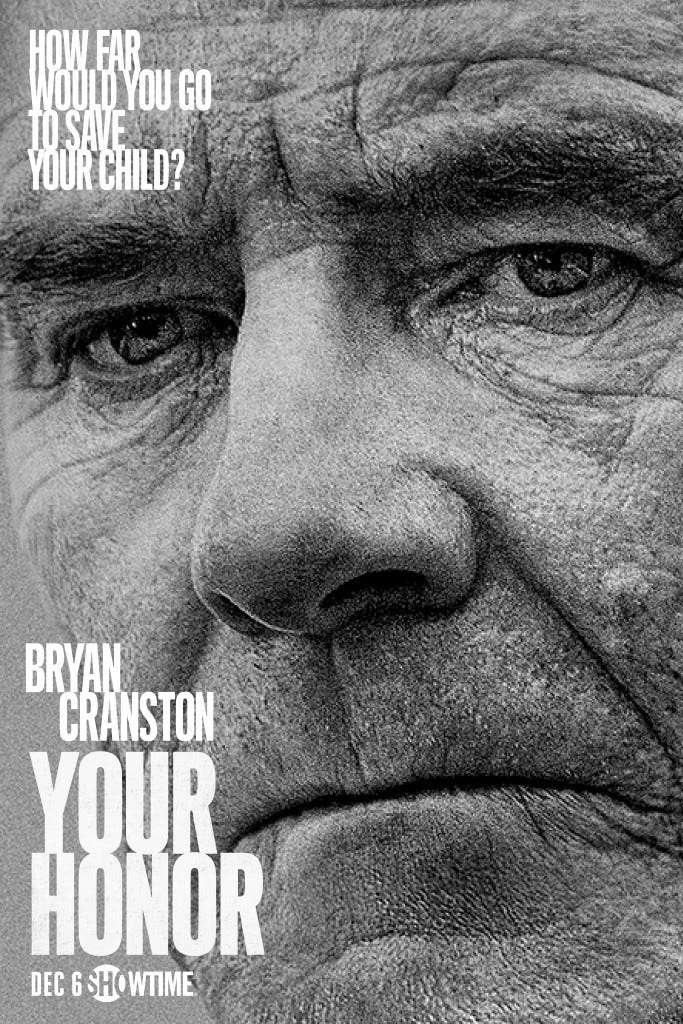 This is a brilliantly written, superbly acted and compelling TV drama. It's the story of a squeaky clean New Orleans judge confronted with a morale dilemma when his 17 year old son is involved in a hit and run. I can't wait for episode 10 this weekend and the finale to Series 1. Is this going to be the new Dexter or Breaking Bad?
---
Where Sales People come to be better
SalesClub is an online community for SalesPeople. Membership combines 1:1 coaching, a virtual sales director, bootcamps and cohort based programs, access to content, and a community to help Sales People be better.
Check it out here.
---
Thank you for reading this issue of Wiser! Please feel free to share it on social media or forward it to a friend or colleague.
If you liked what you read and feel like saying thank you, you can always buy me a coffee (€2) by clicking this link.
Please send me your feedback and let me know what you liked, didn't like, or would like to see next time.
Till next time, Rick