Wiser! #23: Google fined (again), Ethereum's going green, China dominates 5G, crypto money-laundering crackdown and pizza-making robots.
---
In this issue of Wiser!:
France fines Google €500 million...and the US are slow to act
China's 5G dominance
The Race to Space; first Branson, now Bezos
Can crypto answer the energy question?
Accountants warn against holding crypto on the balance sheet
How Banks innovate
Plus stories on crypto money laundering, e-commerce, Amazon and robots making pizzas
---
SocialMedia
France fines Google €500 million
Google has been fined €500 million ($592 million) by France's competition regulator. This all comes down to the anti-trust issue that got Australia all worked up earlier this year, which is that Google is making money hand over fist off the back of content creators, in this case, news and media outlets.
The regulator has threatened a further fine of €900,000 per day for each day they don't come to some kind of agreement within the next two months.
This follows a €220 million fine from the French in June for what antitrust authorities described as abusing its market dominance in the online ad business. Source: CNN
Over in the USA, their latest battle with regulators comes after a group of US states sued Google. They argue that Google abuses its control of Google Play.
Google responded by saying that they didn't! Source: Google response
US are slow to act…
When it comes to anti-trust against all of Big Tech, not just Google, IMHO, the US seems hopelessly slow and hampered by its anti-trust laws that were not written for a "when the product is free" market (US anti-trust is based on price competition, it wasn't intended for a monopolistic free-to-consumer market).
Add to that the apparent inability of the ageing American politicians to grasp the very basics of Big Tech.
Remember the question that went viral from Republican Senator Orrin Hatch to Facebook's Mark Zuckerberg, "How do you sustain a business model in which users don't pay for your service?"
"Senator, we run ads," said the Facebook CEO and founder with a straight face!
Although my favourite was when Senator Lindsey Graham asked the Facebook CEO, "Is Twitter the same as what you do?".
For more of this, watch these stupid questions to Google from US politicians.
---
CryptoCorner
Proof of Green: can crypto answer the energy question?
You will know from previous issues of Wiser! of the environmental concerns surrounding the energy demands from cryptocurrency.
Headlines compare Bitcoin to the energy use of Denmark.
However, the actual extent of the environmental impact of crypto is debatable, although nobody pretends that Bitcoin and Ethereum don't use a lot of it.
The issue is that Bitcoin and Ethereum currently derive their security and functionality from a process called "Proof of Work."
This is the process that has proven to be very inefficient, albeit effective, in making the crypto networks work.
For Bitcoin, the number 1 cryptocurrency, they're stuck with the Proof of Work protocol on its blockchain network.
However, Ethereum isn't.
And it plans to switch to a new system called "Proof of Stake" in the next year. Ethereum claim that this will decrease its energy usage by 99.95%.
This article explains the difference between PoW and PoS. Source: Almanack
Crackdown on crypto money laundering
Hong Kong authorities have cracked down on a money laundering syndicate that included $113 million in cryptocurrencies.
It is alleged that the syndicate laundered funds totalling HK$1.2 billion ($155 million) over a period of 15 months, the majority of it in crypto.
Forty separate crypto wallets were used and more than 60% of the funds had been funnelled through accounts in the crypto-friendly island of Singapore.
Meanwhile, British Police have confiscated around $250 million worth of cryptocurrency as part of an ongoing money laundering investigation.
London's Metropolitan Police announced that this was one of the largest crypto seizures in the world and breaking a record the Police Force set last month. Sources: Forbes, Decrypt
Accountants warn against holding crypto on the balance sheet
Finally…and without meaning to infer any connection between the previous story (on money laundering) to this story (on unregulated corporate accounting practices)….Bloomberg report that corporate accountants are restricting firms from holding cryptocurrency as assets.
MicroStrategy and Elon Musk's Tesla are amongst the large corporations that own Bitcoin (a subject I covered recently for WiserIn5!).
However, one survey found that only 5% of finance executives plan to invest in Bitcoin this year. Source: Bloomberg
---
***Upgrade to Premium***

This is the Free issue of the Wiser! Newsletter. Subscribers who financially support the Wiser! Newsletter and buy the Premium Membership receive additional content that Free subscribers don't get to see. Premium Members also get unlimited access to every piece of content on the website and the satisfaction of knowing they are supporting an independent creator.
👉👉👉You can upgrade to Premium here with the peace of mind of a 30-day, money-back guarantee.👈👈👈
LIMITED TIME OFFER: Until the end of October 2021, sign up for annual Membership and receive an extra 6 months free! That's a 44% saving on the monthly subscription!
---
5G
China's 5G dominance
China has 70% of the world's 5G base stations.
The country has deployed almost a million 5G base stations and the number of 5G-connected devices in China exceeds 365 million, making up 80% of the world's total!
It is estimated that by 2025, roughly 25% of the global population will be using 5G.
So what?
5G is the next generation of technology for internet access over mobile. It is at least 10x faster than 4G and will enable a whole new world of technology over the airwaves that just isnt possible today.
"Next-generation cloud and edge computing infrastructure, IoT devices, autonomous vehicles, robot delivery vehicles, and such all will rely on 5G technology."
Leading the way is China's Huawei, the world's leading telecommunications manufacturer.
Now, you may recall that President Trump went to war with Huawei. This was supposedly on security grounds, although it was more likely an attempt to stall China's dominance on economic grounds.
China already has the largest single consumer market and has established significant innovation advantages over the US economy.
There was a time when China was known for manufacturing the simple things, like pens and toys. Brand China was seen as cheap and cheerful.
But now, China has developed world leading capabilities for manufacturing complex and advanced technologies. In the last decade, China has surpassed the US in a range of innovative technologies that range from smartphone production to renewable energy deployment, from mobile payments to AI-based language recognition technology.
On top of that, China's annual spend in infrastructure is 3.5x that of the United States, including in technologies such as 5G. This is why advocates of President Biden's Infrastructure Bill argue that it is imperative to keep pace with China. Source: Brett King
---
Fintech
Ever wondered how Banks innovate?
The best way to answer these questions is to go and talk with an expert who knows the answer. And that's exactly what I did when I recently hooked up with Christer Holloman.
I first met Christer 6 years when he pitched a startup to me in London. It's called Divido, a Buy Now Pay Later platform.
I wished him well at the time, thinking, it wasn't for me. Well I got that one wrong! 🙆
Divido have just completed their series B raise of $30 million!
Anyhow, the reason for talking to Christer was about his new book, called "Transactional to Transformational - How Banks Innovate".
This is a must read book that compares different approaches to innovation from the traditional (incumbent) banks to the digital (challenger) banks. Christer breaks it down into 16 chapters and considers around 100 banks as he compares and contrasts the old with the new, the analogue with the digital.
This is what Fintech is all about! Watch my discussion with Christer here. 👇
To find out more go to the book's website here.
Watch my interview with Christer Holloman here.
---
Snippets of Insight and Information
First Branson, now Bezos (in the Race to Space)
Last Sunday, Virgin Galactic's billionaire CEO, Sir Richard Branson, went first. Of the 3 billionaires leading the Space race, Branson beat Bezos by 8 days when he flew 80 kms up in space plane Eve.
However, Blue Origin CEO, Jeff Bezos, is about to reclaim the headlines and attention.
Because next Tuesday, 20th July, Bezos will make history in what would be the world's first un-piloted suborbital flight with an all-civilian crew.
That's right, no pilots on board the New Shephard space rocket, just a monster jet pack that will launch Bezos and fellow space tourists up 100kms to the very edge of Space, touching the Karmen Line.
Want to know more about the billionaire's space race?
Watch this video for Wiser! Newsletter.
How China won the Euros
You may have been too busy watching the football to notice, but a 3rd of the advertising spend at the Euro2020 finals came from Chinese tech firms.
In the past you would have expected to see the likes of Mastercard, MacDonalds and Coca-cola dominate the pitch side billboards. But the world is changing and now 11 of the world's top 25 consumer brands are Chinese.
At the Euro's, the biggest spenders on advertising were Chinese, primarily the world's largest mobile payments provider Alipay, short form social media app TikTok, electronics giant HiSense and Vivo, the 2nd fastest growing 5G brand globally. Source: Cyrus Janssen
Home gym equipment sales spiked 5813% during the pandemic!
The team from insurance technology firm Trov collected a bunch of interesting stats to show how people have lived and behaved during the pandemic. Source: Trov
Amazon acquires team of satellite experts from Facebook
It's part of the e-commerce giant's plan to provide satellite-beamed internet. Amazon plans to launch a constellation of around 3,000 low Earth orbit satellites by 2023.
This puts Amazon in direct competition with Starlink from SpaceX. Elon Musk's Starlink plan is to build a network of around 42,000 satellites floating in low-Earth orbit. They will provide Internet access to the 5-10% of the world's population in hard to reach locations. Source: Business Insider
Watch robots make pizzas at an automated pizzeria
Pazzi Pizzeria is a restaurant in Paris where customers can watch their pizzas being made by a team of robots. A 90 second video featuring the robots in action is available in the source article. (Or you can watch my YouTube on Robots here.) Source: SingularityHub
---
Help me get to 1,000 Subscribers please
As I put this issue to bed, you are amongst 731 subscribers to the Wiser! Newsletter.
My long term ambition is to have 10,000 subscribers, and the first milestone is a thousand…so, we're nearly there!
But I need your help, please.
The best way to reach new readers is word of mouth.
If you click THIS LINK in your inbox, it'll create an easy-to-send pre-written email you can just fire off to some friends.
And as a special offer, I will upgrade everyone who signs up from your email to a complimentary 6 months PREMIUM membership.
Thank you for helping me!
(Or you can share the newsletter on your social media feed with this button 👇)
---
Robinhood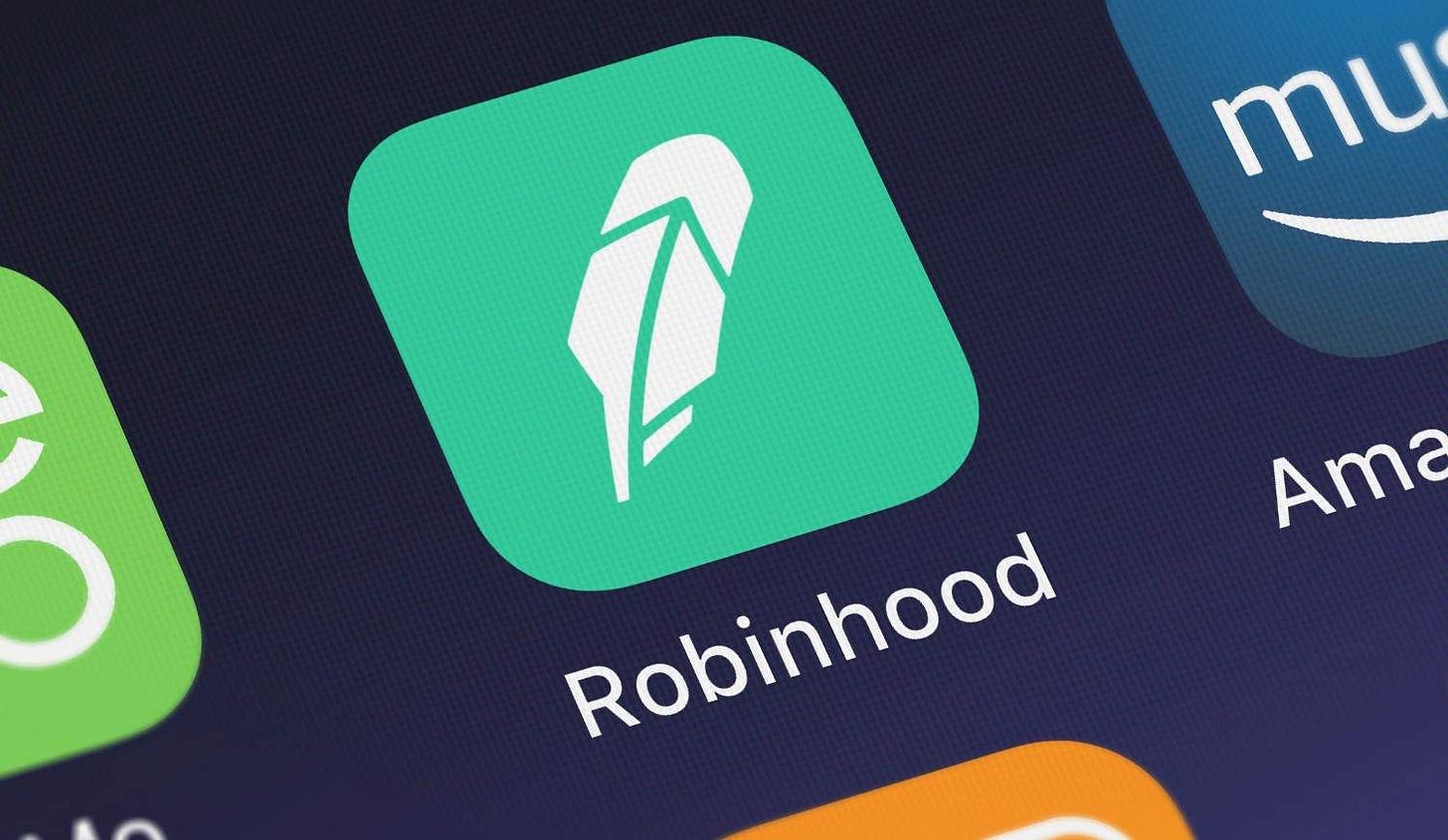 Robinhood: Good Samaritan or evil menace?
That was the question we answered in a deep dive on the disruptive investment app for last week's feature article in WiserIn5! (Premium Content).
Named after the fictional character who robbed the rich to feed the poor, Robinhood's founders say they created the platform to "democratize America's financial system".
But are they really giving agency to the masses or feeding the very establishment they rail against?
The Robinhood app has 18 million users, predominantly young men, with average to poor credit ratings, half of whom have never invested in the markets before.
The growth areas for Robinhood are options trading and the buying and selling of cryptocurrency.
Both are highly risky and both carry the very real possibility of the trader losing all of their money
It is this recipe of an easy to use, sticky experience PLUS free trades that has helped Robinhood achieve levels of engagement to rival the social networks.
Of the 17.7 million monthly active users, almost half (47%) of them are active on the app every day
To find out why Robinhood are in the news again (and not for good reasons), read the written article here, or watch the YouTube video here.
---
And before you go, please share this newsletter on your social media feeds using the buttons below.