Wiser! #112:
---
w/Wiser! #112 - Friday 10th February 2023
Preamble
The battle for consumer AI took a turn this week as both Google and Microsoft announced their own versions of a chatbot for AI search results. Microsoft trumped Google to be first to announce, getting their story out a day early. Microsoft's plan is to integrate AI into it's Bing search engine. Then, Google announced "Bard", an AI search engine that will provide a summary of your search query as well as a list of links to articles to read yourself.
Here's The Thing: these tools are prone to be wrong and should not be relied upon, or even used (IMHO). Google proved my point as they launched Bard, when a factually incorrect answer was given as an example of Bard can do! The point is that these tools have been rushed out because of the euphoria over ChatGPT (which was built in 14 days as a rush job itself!) It looks to me that the way they work is to select the first web article returned by the search and then summarise the text in that article, regardless of whether that article is out of date, factually incorrect or simply an opinion.  You can do this already with tools like Clasp, in search engines like You.com, and in apps like Notion and Canva. I've been using AI summarisers for months.
The issue is that the AI is only as good as the data it is trained on. If the search results return an article that's 5 years old at the top of the search results, for whatever reason, then the AI summarisers will work on that article, even though it is out of date. If you ask the AI a question on a subject you already understand, you'll probably see the error. The issue is that if you don't know any different, you'll take the AI answer as gospel, and could be wrong.
ATB, Rick
P.s. Remember: Insight and Information Gives You Leverage!
👍
"Thanks Rick - I am enjoying the newsletter. Keep up the great work", James Berkeley, MD, Ellice Consulting
---
w/Promotion
🔥 This issue of Wiser! is promoting CHARTR.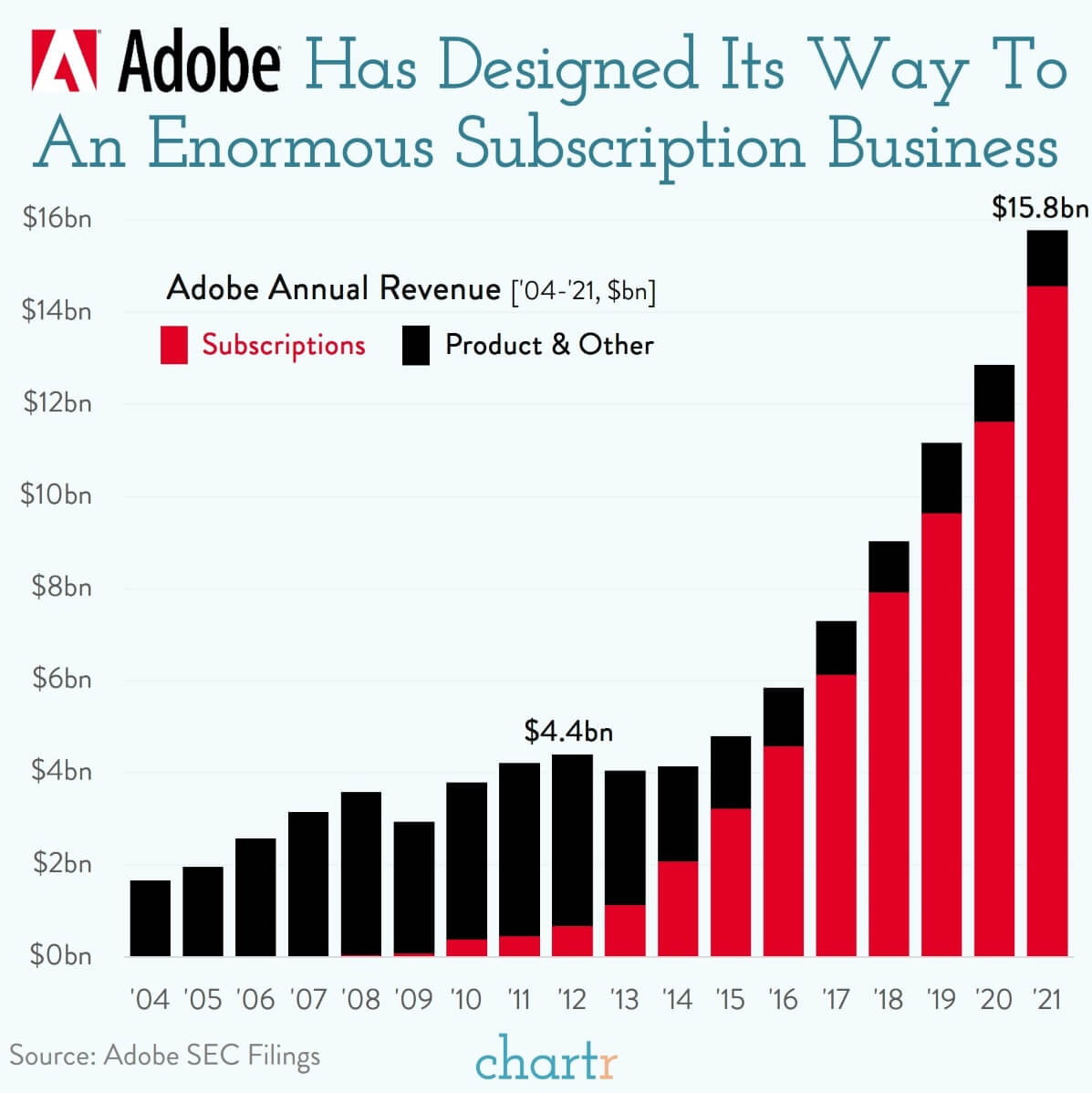 Take your office small talk to the next level with Chartr
Behind every big headline or emerging theme, there's the data that underpins the story. When I want to understand the numbers behind a topic – the deeper context that I can't get just from reading news – I turn to my friends at Chartr.
Their free visual newsletter is packed with snackable charts and easy-to-remember insights on business, tech, entertainment, and society – in less than a 5 minute read.
Join 300,000+ professionals FOR FREE and get the data, anecdotes, and visuals you need to understand today's world and take your office small talk to the next level.
---
w/Premium Content
1. Google and the "illegal monopolisation" of the digital advertising market
In 2007, Google bought a digital advertising business called DoubleClick. It was/is the technology solution that inserts adverts into webpages that are individually targeted for the reader. It was an acquisition that drew the scrutiny of privacy groups, warning of Google's unparalleled access to data about Internet users, as well as competition regulators, namely the FTC.
The Federal Trade Commission is the USA government agency that oversees competition, mergers and acquisitions. They reviewed Google's acquisition of DoubleClick and ruled four to one in favour of allowing it to go ahead. The FTC believed that a competitor would emerge to prevent Google from dominating the digital ad market.
In their ruling, the FTC said that the acquisition was  "unlikely to substantially lessen competition." The one dissenting commissioner, Pamela Jones Harbour, warned that the acquisition would create an "advertising colossus."
How right she was, and how wrong the FTC got it. Because, instead of encouraging competition and innovation, the opposite has happened. Fast forward to 2023 and the US Gov, via the Department of Justice, are suing Google for breaking the law, many times.
Here's The Thing: For all it's huff and puff, the US government has been lack lust when it comes to regulating BigTech over the past two decades. Now, the DoJ appear to be up for the challenge and have set their sights high with the break-up of Google as their goal. This is no small task. Google have an army of high paid lawyers at their disposal, many more than the DoJ have on their side.
But, the DoJ has the law. And whereas the FTC decision in 2007 was based on judgement, the DoJ case rests on their ability to prove Google broke that law. If they succeed in breaking up Google, it could have a profound impact on the Internet as we know and use it today. Because Google is everywhere, for now at least!
---
w/BigTech
2. Amazon's advertising business is bigger than YouTube
🌎
Amazon is a digital Adtech giant, generating $8.7 billion more in revenue than YouTube in 2022 ($37.7 billion vs. $29.2 billion.)
It's not just Google under scrutiny, expect a lot of heat coming Amazon's way this year. Especially in the digital ads space, where the e-Commerce and world's largest cloud provider is a giant.
Here's The Thing: Amazon Ads is built on the back of its third-party marketplace business. This is where independent sellers use Amazon's infrastructure to sell to consumers. These sellers pay Amazon a fee to use its services (e.g. warehouses) which gets recorded as "Third party seller services". These same sellers also pay Amazon to promote their products so customers can see them at the top of search results (ever noticed the word "sponsored" against every ad at the top of your Amazon search results?).
---
w/SocialMedia
3. One in four humans on this planet use Facebook every month
One in six use the Facebook family of apps EVERY DAY! Think about that for a moment. There is no other organisation, nation state or religion in the history of humankind that has matched Facebook's reach or influence. Here's The Thing: even though it's a publicly listed company, Facebook is effectively controlled by one man, Mark Zuckerberg. He has the ability to influence and impact more people in the world than any other person in the history of persons. The 2 billion dollar question is: Should we be worried by that? Are you?
---
w/Web3
4. Sint Maarten's to adopt cryptocurrency as the antidote to the US Dollar
The Caribbean island nation of Sint Maarten has been exploring ways to use cryptocurrency to boost its economy and improve financial inclusion. The move is part of a larger initiative to move away from its reliance on the US dollar and create a more stable economy. Now, the Sint Marrten government has begun exploring the potential of using the Tron cryptocurrency. The government is also working on a regulatory framework for the use of cryptocurrency, which would include provisions for taxation, consumer protection, and anti-money laundering.
---
w/SocialMedia
5. For how much longer will Twitter be Twitter?
Elon Musk is wasting no time in turning Twitter inside out and upside down. Hell bent on changing the business model to subscriptions, Musk's latest changes include 4,000 character tweets, paying content creators for content and incorporating the Tweetbot news feed into Twitter Blue. At this rate, Twitter will look more like Medium than Mastodon.
---
w/Web3
6. The UK takes one step closer to a digital pound
The Bank of England and the UK Treasury are exploring the issues involved with creating a CBDC, aka Central Bank Digital Currency. Judging from today's poorly informed press coverage, there's a lot of educating to be done here if consumers are to be using "digital sterling as an alternative to cash by the end of the decade."
---
w/Metaverse
7. Can flirting in a virtual reality chatroom stop someone from cheating?
This is the interesting suggestion from a research team in Israel. The research hinges on a simple question: whether flirting with a "seductive" virtual agent, in this case, a VR bartender, would either help or hinder their real-life monogamous relationships. Here's the thing: the social scientists believed it would help and that flirting with a seductive VR character can help fend off infidelity. The team conducted experiments where participants strapped on a VR headset, entered a virtual bar, and chatted up the (simulated) bartender. The researchers observed that a little bit of virtual temptation works like an anti-cheating vaccine.
---
w/Web3
8. Hermès wins trademark case against MetaBirkins NFTs
A nine-person jury ruled in favor of Hermès in a trademark case against NFT artist Mason Rothschild. The jury found that Rothschild profited from Hermès' goodwill by designing NFTs based on the fashion house's Birkin bags. The court awarded Hermès $133,000 in damages. The jury also determined that the First Amendment to the United States Constitution did not protect NFTs. The case sets a precedent for NFT creators and builds the framework for intellectual property law relating to digital creations.
---
w/Metaverse
9. Nokia uses virtual reality to connect distant breweries around the world
Nokia is collaborating with an Australian university to create a 5G-connected microbrewery using Metaverse technology. Nokia established two labs in 2022 involving joint experiments in which they brew beer and alter the procedure, the temperature, the timings, the volumes, the recipes, using Metaverse technologies. The purpose is to develop new beers in a virtual world which they can then imitate in the the real one.
---
w/Technology
10. Metaverse CEO says ChatGPT is speeding up the timeline for emulating dead people
"The AI is progressing extremely fast," Somnium Space CEO Artur Sychov, whose company is currently working to develop a "Live Forever" mode for robot avatars in its "virtual reality world," told Motherboard. "Honestly, it is progressing faster than even we anticipated." Their "Live Forever" feature will allow users to create an interactive version of themselves which can be interacted with after their death. This technology is being developed as a way for people who have passed away to remain connected with their family and friends through a digital presence.
---
w/AI
NotionAI is a terrific new editing resource with a wide range of generative AI functions. Just highlight any text you've written within Notion and choose from a the dropdown list of options, including: Improve Writing, Make Shorter, Make Longer, Make Simpler, Change Tone (Casual, Professional, Confident, Friendly), Summarise, Translate, Explain, Create Action Items and Continue Writing.
By any standard, this is a comprehensive tool that is 100% integrated into Notion's text editor. NotionAI is currently available on the free to use plan.
---
w/TechnologyNews
Headlines and Stories
---
w/Productivity
🛠️ Tools, Tips and Classified Ads
---
w/Information
📰 Newsletters to keep you informed
---
w/Podcast
🎙 Big Tech Little Tech #18: Google antitrust, ChatGPT, Avatar, and a new dodo
In the latest episode of the podcast that takes a not so serious look at the seriousness of tech, Shaun and I discuss "Why US Gov is suing Google".
Plus: How ChatGPT's success was a surprise, un-extincting the Dodo, some movies, what about World Stats and some tech news.
🎙 ️Listen to the latest episode on Spotify.
---
w/AboutWiser!
Wiser! Newsletter
Wiser! is a weekly newsletter that makes sense of what's happening and what's coming next in the tech economy. From disruptive technologies, like blockchain, crypto and artificial intelligence, to emerging trends, like Web3 and the Metaverse. Plus there's a big focus on BigTech and the impact of social media.
☕️ If you'd like to acknowledge my work and buy me a coffee, click the image above or below and it'll take you to the Wiser! BuyMeACoffee page.
Each virtual coffee costs €2 and it all goes towards the running costs of Wiser! 🙏
🗣 Come and join the Wiser! Community on Slack.
👍 Give me your Feedback please by answering this simple yes/no question. It takes less than 30 seconds to do and means the world to me. 🙏