---
---
w/Promotion
🔥 This issue of Wiser! is promoting Synthetic Mind
Interested in tech, business and software?
Sign up for Synthetic Mind, a free newsletter that's just for you!
---
w/NFTs
Adidas release latest web3 consumer engagement initiative: the ALTS Dynamic NFT Collection
Global sneaker and lifestyle brand Adidas has expanded its non-fungible token (NFT) ecosystem with the release of the ALTS by Adidas collection, available on OpenSea.
Adidas first released its Into The Metaverse collection in December 2021, promising holders of the NFTs "exclusive access to collaborative merchandise and virtual land experiences throughout 2022." Its first Web3 exploration, a collaboration with NFT influencer gmoney, PUNKS Comic and Bored Ape Yacht Club, allowed holders to burn their NFTs to receive a new ERC-1155 token from the next phase of the project and claim physical clothing items.
Holders of NFTs from the first two phases of the Into The Metaverse collection can now burn their NFTs to receive a new NFT from the Ethereum-based ALTS by Adidas collection, paying only for gas fees. The new stage in Adidas' Web3 journey involves a dynamic NFT with eight different "ALT[er] egos" that correspond to different rarity traits and interactive storylines.
The new collection will offer various utilities for holders, including a stake in the ALTS by Adidas ecosystem, some commercial intellectual property (IP) rights to their character, access to exclusive virtual wearables, entry to holder-only community gatherings and token-gated Discord channels, among others.
At the time of writing, the Into the Metaverse collection has a floor price of 0.57 ETH (about $1,000) and has done 48,771 ETH (about $93.4 million) in trading volume since its launch. The ALTS by Adidas collection has a floor price of 0.59 ETH (about $1,100) and has done 320 ETH (about $613,000) in trading volume so far.
Adidas has continued to bring its sporty style to Web3 through digital apparel collections and a virtual styling tool for existing profile picture (PFP) NFTs. It has also released several NFT collections, including the sports-themed Blue Pass, an art collection titled Raws x Adidas and a council badge for the 15 members elected to advise the company on its Web3 expansion.
Adidas previously partnered with Italian luxury house Prada on a Polygon-based NFT collection and most recently, the brand showed off new styles in Decentraland during the platform's Metaverse Fashion Week. According to a Dune Analytics dashboard, Adidas continues to be one of the top brands in the NFT space.
Sources:
♾️
To find out more about the use-cases for consumer brands in AI, web3 and the Metaverse, check this out, or upgrade to Premium and access the database of 250 use cases in emerging technologies imemdiately.
---
w/Productivity
🗞 The Newsletter of Newsletters: The Sample
If you love reading newsletters, you'll love The Sample.
The Sample is an AI-powered newsletter recommendation machine. You tell The Sample the type of newsletter content you like. And leave it to The Sample to recommend a newsletter based on your preferences.
---
w/AI
Stable Diffusion facing legal action from artists over its base data
Stable Diffusion is AI software that can transform text into images. Fair enough, but it is facing legal action from artists and photographers who claim that their copyrighted works have been used without permission.
The reason for the issue is that the data model used to train the AI was hundreds of millions of images scrapped from the Internet. Using the "alt-text" descriptions of images, the AI model was able to "learn" the relationships between words and images.
When you hear the word "elephant" or "rose" you visualise what it means in your brain. For an AI model, it has to be trained to make that same connection. Which is the crux of the issue….whilst some of the hundreds of millions of images used to train the software were in the public domain, many were not.
Here's The Thing: the legal implications of generative AI are in uncharted waters, and while there are arguments that copyright law's fair use doctrine allows Stable Diffusion to use the images, there are also compelling arguments on the other side. The outcome of the lawsuits against the software could have far-reaching consequences for the entire industry, including the need for a new licensing framework designed for generative AI.
Stable Diffusion works by converting a user's prompt into a visual representation, characterising images based on their "coordinates" in "picture space" and converting the latent representation into an image. The plaintiffs argue that Stable Diffusion creates a "complex collage tool" containing "compressed copies" of its training images. But experts disagree.
Which ever way this goes, and it's hard to call, the genie is out of the bottle on generative AI. It's here and it's going to revolutionise many sectors of the creative and knowledge economies, jeopardising huge numbers of jobs on the way. As far as this lawsuit is concerned, the issue is that it must be done in a way that respects copyright law and protects the rights of artists and photographers.
Further Reading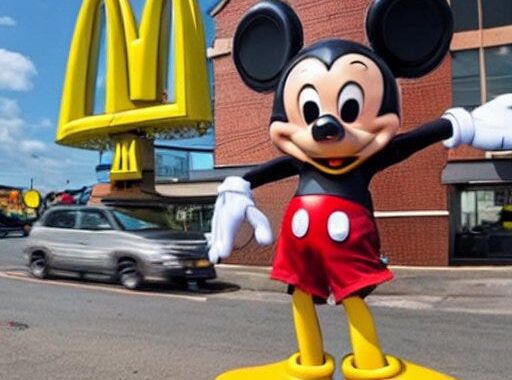 ---
w/Innovation
Stilride announce the world's first "origami" e-Bike from Sweden
Swedish startup Stilride is looking to revolutionise electric motorcycles with its latest invention, the Stilride 1. This unique vehicle combines looks, performance, and sustainability to create a motorbike that sets "a new gold standard" for electric mobility.
"It's been designed for both the motorcycle enthusiast and the design and sustainability purist."
The Stilride 1's design process is revolutionary, using a pioneering method called "industrial origami." This process involves applying the Japanese art of paper-folding to sheet metal using the start-up's software, industrial robots, and laser-cutting. The entire process requires a single sheet of stainless steel, which is folded instead of welded, producing minimal pollutants. The result is a motorbike that is not only a feat of engineering but is also a work of art.
Furthermore, the Stilride 1's sustainability credentials are impressive. It is composed of a small number of locally produced parts, and its lightweight design reduces energy consumption. The ultra-lightweight chassis is made from recycled Swedish steel, and the bike features a premium HUB motor system, single shock absorber, and multi-link rear suspension. The braking system was co-developed with ISR, and the bike's Electric Vehicle Control Unit (eVCU) powers various features through the Stilcontrol app, such as theft protection, geographical positioning, service diagnostics, and battery status control.
The Stilride 1 is made to order for €15,000, and each customer will receive a bespoke motorcycle that combines style, performance, and sustainability. Tue Beijer, CTO, and co-founder at Stilride, said that the Stilride 1 has been designed for both the motorcycle enthusiast and the design and sustainability purist.
Overall, the Stilride 1 is a pioneering creation that is set to shake up the electric motorcycle industry. Its unique design, sustainability credentials, and impressive features are sure to make it popular among motorcycle enthusiasts and sustainability purists alike.
For More: Stilride's website
Source: The Next Web
---
w/Promotion
---
w/Cryptocurrencies
The New York Times uncovers the real-world costs of Bitcoin mining
The big concern over Bitcoin mining is that is has significant environmental impacts, adding hundreds of megawatts of new demand at a time when we need to cut fossil power. The mines needed to mine the cryptocurrency are massive electricity fuelled computer centres.
A one-megawatt mine consumes more energy daily than a typical US home does in two years. The electricity coursing through a 100-megawatt operation at a given moment could power about half the homes in Cleveland, according to new reporting from the New York Times. The newspaper found 34 America-based mines' power use is causing nearly 16.4 million tons of carbon pollution each year.
Further, the NYT makes the point that Bitcoin mines bring few jobs and less local economic development, with financial benefits flowing mainly to their owners and operators. In 2021, 20 executives at five publicly traded Bitcoin companies received nearly $16 million in salary and over $630 million in stock options. The industry has been less profitable since then, as Bitcoin's value dropped and electricity prices rose.
A major contributor is the way in which Bitcoins are made, using a mechanism called "Proof of Work". When Ethereum switched to a different model, called "Proof of Stake" to operate their cryptocurrency network, they reduced the electricity needed by more than 99%!
Simply by switching the algorithm.
But, the point is that Bitcoin is substantially unique to any other crypto and advocates oppose changing the mining approach, saying that it has proved resistant to attacks longer and at a greater scale than any other.
As Bitcoin mining has spread, countries around the world have found that operations strain their power grids. In 2019, China declared the industry "undesirable" and banned it in 2021. Operations moved to Iran and Kazakhstan, which also enacted restrictions. Since then, Texas has become a hub for Bitcoin mining, but using so much electricity can lead to carbon pollution.
ERCOT had approved plans to connect an additional 4,000 megawatts of Bitcoin operations this year, which would nearly triple their consumption in Texas. Some of the country's largest Bitcoin operations have chosen Texas, but the state has also sponsored a bill that would restrict tax breaks for miners and place strict limits on their participation in programs like the Responsive Reserve.
FYI: The Times identified large Bitcoin mines by reviewing public statements, news articles, and financial disclosures, then used satellite imagery and land records to determine each operation's precise location and the specific part of the US electric grid it connects to.
Further Reading
---
w/BrandStrategies
Do you know which consumer brands are using emerging tech to build better customer engagement?
If you're in sales, marketing or product development, then maybe you should!
The quickest and easiest way that you can shortcut to the information you need is to subscribe to a Wiser! Premium membership. For the equivalent of €1/week, Premium Subscribers not only get all the best content on Wiser!, they also get unrestricted access to the database of over 250 use-cases of consumer brands, organisations, locations and celebrities that are using emerging technologies to enhance their brand engagement.
From NFTs and blockchain, to virtual reality and drones, consumer brands from adidias to Zara are pushing the boundaries on tech innovation to build stronger customer loyalty and enter new markets.
To find out more, read this, or upgrade now and start being Wiser! from today!
---
w/SocialMedia
Is Substack Notes going to be the latest challenger to Twitter?
Substack is the newsletter platform that upset the apple cart and changed the business model for newsletters. Instead of content creators paying for all the different bits of tech you need to run a newsletter, Substack provides it all for free. They only get paid if the newsletter gets paid. Substack takes a 10% cut of all subscription income, otherwise everything is free no matter how large a subscriber base the newsletter has.
Substack is also has a podcast platform and runs a chat group feature. Again, all for free!
In its latest move, the VC funded newsletter platform has announced a new feature called Substack Notes.
Here's The Thing: It looks, feels and acts like Twitter. Substack creators can post short text messages, share links or kick off discussions with their audiences who respond to the messages. It's an engagement tool that lets the newsletter authors connect with their community. Like I said, it's like Twitter, except without all the unsavoury, unpleasant and unwanted content.
Not surprisingly Twitter didn't like the threat of competition too much. Under Elon Musk's instruction, Twitter has been taking aggressive actions against Substack. They changed the Twitter code to replace every search reference of "Substack" to "newsletter. " They prevented Twitter users from "liking" tweets with Substack links in them. Twitter even added a warning message that Substack was an unsafe platform everytime a user clicked a Substack link.
In true conspiratorial fashion, Elon Musk even claimed that Substack was somehow downloading the Twitter database to bootstrap Substack Notes. It's unclear how Substack were meant to be doing this or even if it is true, we have to rely on Musk's word for that.
Or you could read what the Substack CEO had to say about it all in this one on one interview that CEO Chris Best gave to The Verge.
---
The Rundown is the fastest-growing AI newsletter worldwide
Get the rundown on the latest developments in AI before everyone else. Join 50,000+ readers daily from Microsoft, Meta, Nasa, and more.
---
w/SocialMedia
When Elon spoke to the BBC
Earlier this week, with about 20 minutes notice, Elon Musk invited a BBC tech reporter to share a Twitter Spaces discussion. They talked about Musk's buying of Twitter and what he's done since, how's he's coping and where he's going with it.
Elon Musk said that Twitter has around 1,500 employees, down from around 7,500 before he bought the social network for $44 billion in late October. The interview with a BBC journalist on Tuesday night, broadcast on Twitter's live audio feature Spaces, came days after Musk's Twitter  labeled the BBC and other outlets, including U.S. broadcaster NPR, as "state-affiliated media." On the interview, Musk said he would change the label to "publicly funded media."
Musk also said Twitter's total user time was at an all-time high at 8 million user minutes a day and that "not all but most" advertisers have returned to Twitter. However, he still expects Twitter to generate 50% less revenue than last year. Musk also downplayed the impact of subscription revenue, saying that he didn't know if Twitter Blue was "a giant revenue stream," despite saying previously that he expected half of Twitter's revenue to come from subscriptions.
Musk offered few details about his plans for Twitter. He seemed to confirm a Business Insider report that Twitter had purchased graphics processing units to pursue an artificial intelligence project and repeated that he wants Twitter to become an "everything app," but did not elaborate on either.
Here's The Thing: Elon Musk has taken a functioning business that made no money but with a brand that punched well about its weight…and turned it into a loss making business run by a skelton staff with a damaged, possibly irreparable brand. By Musk's own numbers, Twitter has gone from being a 7 and a half thousand people, $4.5 billion business that cost $4.5 billion to run, $2.5 billion business that's carrying $1.5 billion of debt repayment run by around 1,500 people. Musk says the metrics look good and advertisers are returning, but I've never worked with an tech founder who hasn't said exactly the same thing, regardless of the reality.
Bottom line: I stick with my 2023 prediction that Musk will walk away from Twitter empty handed.
Bing's AI take on the interview
I asked Bing AI to give me 5 highlights from the discussion, with source links:
Further Reading
---
w/TechRegs
Regulator's around the world take different approaches to ChatGPT
Italy's privacy watchdog bans ChatGPT
Two weeks ago, Italy's privacy watchdog banned ChatGPT, an AI system owned by OpenAI, due to concerns about a data breach and the legal basis for using personal data to train the system. OpenAI disabled ChatGPT in Italy and was required to report to the Italian watchdog within 20 days on what measures it had taken to ensure the privacy of users' data or face a fine of up to €20m or 4% of annual global revenue.
This week, Italy's data protection watchdog has laid out what OpenAI needs to do for it to lift the order against ChatGPT.
OpenAI responded to the Italian data protection authority's order by swiftly geoblocking access to ChatGPT. In a brief public statement, OpenAI CEO Sam Altman also tweeted confirmation it had ceased offering the service in Italy — doing so alongside the usual Big Tech boilerplate caveat that it "think[s] we are following all privacy laws."
Italy's Garante seems to have a different perspective.
The regulator's new compliance requirement mandates that OpenAI must be transparent and publish an information notice detailing its data processing. It needs to adopt age gating immediately to prevent minors from accessing the technology and move to more robust age verification measures. OpenAI must clarify the legal basis it's claiming for processing people's data to train its AI, and it cannot rely on the performance of a contract. This means it has to choose between consent or legitimate interests. OpenAI must provide ways for users and non-users to exercise their rights over their personal data, including asking for corrections of disinformation generated about them by ChatGPT. If not, they should have their data deleted. Furthermore, OpenAI must provide users with an ability to object to the processing of their data for training its algorithms. Lastly, it must conduct a local awareness campaign to inform Italians that it is processing their information to train its AIs.
Japan is considering adopting ChatGPT to help run parts of its government.
Sam Altman, CEO of OpenAI, had a meeting with the Japanese Chief Cabinet Secretary during his recent visit to Japan. During their talk, the secretary suggested that the Japanese government could use ChatGPT, OpenAI's AI system, to reduce government workers' workload. However, this would only be possible if privacy and cybersecurity concerns are addressed. This is a significant opportunity for OpenAI, as the Japanese government is a massive potential customer.
To further strengthen their presence in Japan, Altman also announced that OpenAI is considering opening an office in the country. OpenAI is committed to safety and privacy, which is essential for the successful implementation of its AI systems.
Further Reading
---
w/AI
5 Ways to Use Google Docs' new AI
The following is an excerpt from Wonder Tools on Substack.
Here are five examples of how AI has been integrated into Google Docs:
Generate an email draft. Drafting dozens of routine emails can eat up hours of your workweek. Ask GDocs AI to draft a letter with a specific message and tone and it does a good job of prepping a first draft you can polish & send.
Compose a marketing message. If you're tasked with spreading the word about an event, GDocs AI can reply to a prompt with a useful paragraph or a solid list of bullet points.
Sharpen sentences. I asked the AI to shorten longwinded sentences and it suggested helpful edits. If English isn't your first language or you're wordy, having an AI editor built into GDocs is great.
Make pros and cons lists. The AI excels at this task, though the lists it renders aren't as inventive or detailed as those created by ChatGPT. I tried simple topics (working from home) and more complex topics (running a solo journalism venture part-time).
Draft quick posts. You can use GDocs AI to generate a rough draft for routine content you can then improve upon. For anyone who freezes up at a blank page, this capability in GDocs may provide relief.
Check out the results of many AI Google Docs tests by Jeremy Caplan of Wonder Tools.
Limitations
GDocs AI doesn't promise accuracy. A warning says "This is a creative writing aid, and is not intended to be factual." Here's context from Google.
Limited follow-up. AI services like ChatGPT and Bing AI enable iterative dialogues. You can repeatedly refine your prompt—those AI services will retain the thread. With GDocs AI, each query starts over.
Few editing options. Four default options when prompting for edits are "formalize," "shorten," "elaborate," or "rephrase."
"Shorten" proved most useful because "rephrase" didn't do much; formalize felt unnecessary; and elaborate often introduced factual errors. There is also a helpful "custom" option when editing, e.g. "Sound more confident." But the AI sometimes ignored my custom guidance.
Lousy fiction. Google Docs will write fiction or give you a personalized bedtime story, but ChatGPT's fiction is much better. Think high-school fiction vs. a first-grade story.
Dubious elaboration. When I tasked Google Docs with elaborating on something I was writing, it was overly creative. Rather than sticking to facts, it tended to inject opinions.
Boilerplate writing. The ease with which you can wave a finger and conjure up text on any topic within GDocs may accelerate the rate at which boring AI-generated, copy-pasted boilerplate fills up the Web.
Subscribe to Wonder Tools here.
---
w/Podcast
#23: Pausing AI development, 3D cheesecake, Arc, E3 and mobile alarms
In episode #23 of Big Tech Little Tech, Rick Huckstep and Shaun Weston discuss the open letter calling for a 6 month pause on AI development.
Also: 3D-printed cheesecake, Arc browser, UK mobile alarm test and E3's demise.
Subscribe to the Big Tech Little Tech newsletter
Stay up to date with all the news and latest episodes from the Big Tech Little Tech podcast. Subscribe to the Substack newsletter, it's free!
---
Further Reading
---
w/Promotions
Meco: the best new app for newsletter reading
Reading newsletters in the inbox is frustrating - it is noisy and easy to lose control of subscriptions. Now you can enjoy your newsletters outside the inbox with Meco, an app built for reading. Plus it's completely free.
---
👻 Turn Your Audience Into A Business.
Ghost is a powerful app for new-media creators to publish, share, and grow a business around their content. It comes with modern tools to build a website, publish content, send newsletters & offer paid subscriptions to members.
Try Ghost completely free for 14 days.
---
Try Revolut Premium for free for 3 months!
---
☕️ Buy Me A Coffee
Readers often ask me how they can show their appreciation for Wiser!
Here's a way...Buy me a coffee.
BuyMeACoffee is a donation service that makes it real quick and easy for supporters like you to make a one-off or repeat donation and show their appreciation. Virtual coffees are priced at €2 each.

---
Disclaimers
Product Promotion: Some of the products and services promoted on this page are called affiliate links. This means that at no cost to you, should you click the link and take their offer, they may pay me a small commission or give me another benefit, such as new subscribers for the Wiser! Newsletters.
Not Advice: The articles, newsletters and content published on this website are solely for information, education and entertainment value. Nothing on this website should be considered legal or financial advice. Do not share any information in the comments you should keep confidential.
Personal Opinions: The opinions and thoughts sharedon this website and in the Wiser! Newsletters are my own, and not those of any of the third parties mentioned or linked to on this website. No affiliation is implied or otherwise intended with third parties that are referenced or linked.
---