Ten interesting stories and insights into what's happening in the tech economy to keep you up to date and informed.
---
---
w/Promotion
Try Revolut Premium for free for 3 months!
---
w/AI
1. Google has a chatbot to rival ChatGPT and it's called LaMDA
The reason nobody's talking about LaMDA instead of ChatGPT is because Google hasn't released it yet. The company is testing it to make sure it is "helpful and safe" (because they can't yet guarantee that hateful and toxic content won't be generated - see Meta's disaster with Galactica which they withdrew within 48 hours.)
Another potential reason that Google and parent Alphabet have not rushed to get LaMDA out because of regulatory and economic concerns. Namely that some countries require platforms to pay publishers for linking to their material. Using this kind of source material to generate original answers would be even more expensive than just providing the LLM in the first place. The thing is that ChatGPT-style responses are more costly to generate than traditional searches.
However, for me the most plausible explanation for any delay is that a chatbot can answer a search query perfectly, meaning the user would not have to read through the google search results and find the answer themselves. These users would likely visit fewer websites, meaning less opportunity for Google to serve them ads. (you old cynic!!!)
Here's the thing: Google can't afford to delay launching LaMDA for much longer. ChatGPT has put pressure on it to get its competing AI tech out the front door, although OpenAI is under pressure too. It's costing over $3 million a day to provide the free AI chat service. however, as soon as users start paying the $42 subscription charge, US regulators will start scrutinising ChatGPT most closely.
Related News
---
---
w/Web3
2. Is Amazon about to venture into NFTs?
According to a scoop in Blockworks, Amazon is planning to launch a "digital assets enterprise," aka an NFT initiative, this spring. Blockworks reported an anonymous source who said Amazon's focus will centre on blockchain-based gaming that rewards players with NFTs.
Here's The Thing: This makes total sense given the huge interest in gaming amongst millennials, Gen Z and the coming of age Gen A's. Especially since CEO Andy Jassy has expressed his belief in the company's potential for NFT growth before. If recent reports are correct, a potential move into the NFT space could occur in April 2023. However, given the recent troubles Walmart find themselves in with their more conventional play with Roblox and the research that found 50% of the NFT market was "wash trading", I'd expect Amazon to take their time in getting this right first time.
Related News
---
---
w/SocialMedia
3. Have you ditched Twitter for Mastodon yet?
If so, are you using the new Ivory app for Mastodon? Ivory is a brand new app from the folks behind Tweetbot, the award-winning Twitter app. They had to do something because Elon Musk just cut the legs from under the Tweetbot business by removing third party access to Twitter.
In a review in MacStories, they wrote;
Ever since we at MacStories decided to abandon Twitter, we've gone all-in on Mastodon and, broadly speaking, we want to embrace the idea of decentralised and federated social media. Over the past few weeks, I've seen hundreds of other people I used to follow on Twitter do the same. I believe we're witnessing the beginning of a new social networking era, and even though Mastodon has been around for a few years, many of us (myself included) are only realizing now that we should have paid attention to this kind of technology years ago.
In summary, the long and the short of the MacStories review of Ivory is that;
Ivory is a Mastodon client, and it's tricky to evaluate it right now because its version 1.0 is launching under extraordinary circumstances.
By Tapbots' own admission, there's still a lot of work to do on Ivory, but given how the Twitter situation evolved, they had to ship something.
Ivory is a Mastodon client for iOS and iPadOS. It uses the same layout and navigation hierarchy of Tweetbot. Designer Mark Jardine created an entirely new set of icons for the tab bar, compose window, action drawer, and other areas of the app.
The app's animations are incredibly fluid on ProMotion displays, and the timeline scrolls quickly with no stutters or other glitches. Ivory is, by far, the smoothest, most responsive Mastodon client on iPhone and iPad yet.
The folks at Tapbots have been honing their craft for over 10 years at this point, and you can tell that's the case in Ivory. Ivory is the most polished first version of an app for some time. It supports content warnings both when crafting a post and when viewing posts in the timeline.
Ivory, like Tweetbot, supports syncing your timeline position via a custom iCloud integration. It's nice to see Ivory get immediate access to these features thanks to the developer-friendly ecosystem of Mastodon. It's a welcome change of pace after more than a decade of Twitter's guessing games with the developer API, it's a welcome change of pace.
A neat feature in Ivory is Timeline Filters. Ivory gives you the ability to filter your timeline to show media, links, or boosts only. The hidden power of filters lies in the ability to create your own with a surprisingly advanced interface. In the future, we may see the ability to pin specific custom filters to the main filtering toolbar as well as an option to activate individual filters with a keyboard shortcut.
Like in Tweetbot, you can switch between multiple accounts in Ivory either when viewing the timeline or composing a new post. Ivory has a built-in action extension for the share sheet called 'Open in Ivory'. The extension can be used to set up simple but useful launchers for specific views of the app.
(Note: the above text in italics is an AI generated summary written by Genei.IO from the following article in MacStories. Minor edits are by me.)
If you're using Ivory, please let me know what you make of it? I've seen a few pieces about Ivory and the app is getting glowing recommendations. I'm checking it as I'm desperate to find a good Mastodon user experience.
Explainer: with Twitter, there's just one app now - the Twitter app (musk turned off access to Twitter for all 3rd party apps). But with Mastodon, there are multiple apps and different versions of the social media network, depending on your preferences...I've just not found one that works for me (yet).
P.S. Post
Btw, I've also just got into Post and trying it now. Post is the latest social media alternative to Twitter. What interests me is that they are reported to be building micropayments to support rewarding creators for content. This was always the web3 vision for Jack Dorsey at Twitter, but it never happened under Dorsey. Rumours are that Musk is looking at payments on Twitter now.
Further Reading
---
---
w/Web3
4. Central-Bank Digital Currencies are coming, ready or not!
On the last count, 114 countries were exploring digital currencies, and their collective economies represent more than 95% of the world's GDP. This is according to the Atlantic Council's Central Bank Digital Currency tracker. Some countries, including China, India, Nigeria and the Bahamas, have already rolled out digital currencies. Others, like Sweden and Japan, are preparing for possible rollouts.
China has gone furthest, building in smart contracts to it's digital yuan, which it is just starting to roll out. Interestingly, given the high profile roll out in China, take up of the CBDC has been poor.
But I don't think that's a problem, because these are such early days and China is still ahead of just about everyone else when it comes to completely replacing physical cash and expensive banking services with a near frictionless digital money. Meanwhile, the US is dragging it's feet, preferring to go the stablecoin route, if it is to go at all. IMHO, by the time the US gets off the fence, it could be too late!
Further Reading
---
---
w/Metaverse
5. Emerging technologies have revolutionised the consumer experience post-Covid
Emerging technologies such as AI and virtual try-ons have revolutionised the consumer experience in the post-COVID landscape, said Ophelia Ceradini, vice president of digital technology and innovation at The Estée Lauder Companies. During a panel at National Retail Foundation's (NRF) Big Show, Ceradini explained the quickly changing relationship between brands and consumers.
Nowadays, consumers expect the same identity, values and experiences from a brand, whether they are shopping online or in store. This means that the beauty consumer's online identity should follow her when she reaches the store and vice versa, creating a cohesive shopping experience. According to Ceradini, this shift has been accelerated by the pandemic, and brands should be prepared to meet the customer's changing expectations.
"It's all about using the data you have...making her feel like one person," said Ceradini.
Here's The Thing: Sales have risen in both online and brick-and-mortar stores, but return rates remain steady or drop, suggesting consumer satisfaction. Technology likely contributes to this, like virtual try-ons that inform customers and reduce uncertainty. However, brands must ensure they cater to diverse customers and body types. Data-sharing offers value to customers, who can then provide marketers with data to optimise messaging.
A more individualised experience has also been beneficial on the retail side, according to Bosco. For example, Macy's has introduced an auto-replenishment system which allows consumers to set how often they want a product sent to them.
"Once you've found something that you absolutely love, you can go on and set it and almost forget it," said Bosco.
Panelists noted an effort to empower beauty advisors on both the retail and brand side. Allowing them to keep up with trends, even if the brand hasn't had time to pivot, enables them to meet consumer needs. Brands should try to predict trends and pivot their advertising. On the retail side, it's important to make the most of inventory in stock. Beauty advisors should be on devices to look up the latest trends and inform consumers where they can find the trendy product.
Related News
---
Try Revolut Premium for free for 3 months!
---
w/Web3
6. MetaJuice digital sales activity suggests Gen Z interest in digital assets is holding up
MetaJuice, a popular on-platform native wallet, recently revealed virtual US retail trends for December 2022 and early January 2023 that show virtual fashion, beauty and streetwear items selling out in the tens of thousands in an average of 7.5 minutes per release.
Millennials and Gen Z are driving this trend, with 25% of NFT buyers engaging with the blockchain for the first time. This trend is playing out amongst the 18-24 years olds on IMVU, the virtual reality social networking platform. In November 2022, MetaJuice introduced NFTs as digital collectibles in IMVU.
🥽
What is IMVU?
IMVU
is an online virtual world and social networking site where 1 million people a day spend 55 minutes on average a day. Users create digital avatars to represent themselves in the virtual world. IMVU was founded in 2004 and this is the largest platform in the world for social networking using 3D avatars.
IMVU NFT sales layer on top of the platform's 20 million virtual goods sold monthly, and soon creators will be able to mint NFTs. With both options offered in a seamlessly integrated way, the million NFT milestone isn't far behind.
"We want to make NFTs affordable to the masses and have true utility so owners can use, wear, trade, and gain social currency to improve their daily digital lives," said John Burris, President of MetaJuice. "Sales of digital goods in games and metaverses have grown steadily and NFTs will further propel their popularity through scarcity, uniqueness, and proof of ownership."
The 10 fastest-selling goods on IMVU are:
Pop Neon Hair
Idol Fade Hair
Streetwear Blue Sneakers
Streetwear Pink Hoodie
Streetwear Dreadlocks
Idol Undercut Hair
Pop Bob Hair
Idol Slicked Hair
Glam Dress Shoe
Streetwear Skater Hair
Source: PR News
---
---
w/Web3
7. Yves Saint Laurent Beauty
On January 30th, YSL launched a two-part Web3 campaign, designed in collaboration with Wunderman Thompson France and tech partner Arianee, to celebrate the launch of Black Opium le Parfum.
As part of this campaign, those who purchase the new fragrance via YSL's online store in France, the US, the UK and Australia were gifted NFTs. Consumers who download the YSL Beauty wallet app have exclusive access to two different NFTs, which will unlock a gift voucher, exclusive content, or the private sale of a second Web3 activation.
Through this two-part Web3 campaign, YSL Beauty is demonstrating how NFTs can be used to enhance online shopping experiences. In a purpose-driven move, all revenue generated by NFT sales will be donated to partner charities of the Abuse is Not Love program, which combats intimate partner violence. This campaign is a fantastic example of how brands can use innovative technologies like NFTs to drive positive change and promote meaningful causes.
250 Brand Strategies in Emerging Tech, Web3, Metaverse
For more examples and use cases of emerging technologies in consumer brands, check out the Brand Strategy Collection (available to all Premium Subscribers.)
---
---
w/Metaverse
8. MG Motors India launch the MGVerse to enhance customer engagement
In the summer of 2022, Metadome.ai and MG Motors announced a partnership to transform the automaker's customer experiences. The collaboration will leverage Metadome's Autodome platform and cloud-streaming technology. The launch will unveil the MGVerse, a web-based photorealistic metaverse, with an arena, avatar zone, and creator zone. The creator zone will have a multi-car showroom with a 3D car configurator and virtual test drives.
MG Motor India showcased MGverse, their future-ready metaverse platform at the recent Auto Expo 2023.
"I believe MG Motor is one of the innovators in the automotive space. We look forward to a successful collaboration in empowering the brand's ecosystem of immersive customer experiences with our proprietary 3D & XR platform for the automotive industry," Kanav Singla, Founder & CEO, Metadome.ai, said.
Sources: Financial Express, Money Control
Related News
---
---
w/SocialMedia
9. An insight into life inside Musk's Twitter
I got my weekly fix of Elon Musk's Twitter soap opera from some excellent reporting from Casey Newton, Alex Heath and Zoey Schiffer in The Verge and New York Magazine. The publications worked together on a superb long feature on the behind-the-scenes chaos of the man-child's takeover of Twitter.
Now, Wiser! readers will remember last week's feature I wrote about Musk's unannounced and silent shutting down of the 3rd party app ecosystem, a key foundation for Twitter's success. Since then, Musk has announced another bombshell for the 3rd party apps that remain on Twitter. There will no longer free access from February 9th.
Well, it seems I'm not alone in honing in on this specific suicidal act by Musk. Adam Tinworth, from the excellent One Man and His Blog, focused on it to. Adam highlighted the following passages on what was really going on inside Twitter. They focus on Amir Shevat (who ran Twitter's 3rd party API services), who is waiting for his meeting with the new Twitter owner (Musk):
Every hour, an assistant messaged Shevat to say the meeting was delayed. When it finally began, around 8 p.m., ­Shevat explained what his team did — they ran the services that allowed outside developers to create apps that connected to Twitter, a feature of any major platform. It would be a crucial component if Musk pursued his publicly stated aspiration to make Twitter a "super-app" like WeChat, which has a thriving economy of mini-apps made by outside engineers.
When Shevat's meeting with Musk finally took place, here's what happened:
Shevat thought (David) Sacks seemed bored — he spent most of the meeting checking his phone. "He didn't want to understand anything," Shevat says. It made him want to cry, especially since he had actually been eager to work with Musk. "I would have worked really hard for him," he says.
Here's The Thing: Shevat "would" have worked really hard for Musk. But that was before Musk reduced the Twitter workforce by 2/3rds. Musk's layoffs wiped out Shevat and his entire team. So, no surprise that just weeks later, a whole bunch of apps get kicked off that API (because there's nobody left to support them.)
Sources: The Verge, One Man and His Blog, Wiser!
---
---
w/SocialMedia
10. By the time harmful content posted to Facebook during the Capitol riot period came down, millions had already engaged
This is the conclusions from new research by Cybersecurity for Democracy. Researchers at NYU Cybersecurity for Democracy analysed over 2 million posts from US news sources and found that Facebook's approach to removing problematic content after the January 6th Capitol attack was not very effective.
Nearly 80% of potential engagement with posts eventually removed happened before they were taken down. Facebook was more likely to remove posts from sources known to spread misinformation. The researchers concluded that takedowns are not the most effective way to stem damage from misinformation and recommended decreasing delays in human review, changing content recommendation algorithms, and creating procedures for manual review of posts that show signs of "going viral".
Here's The Thing: The researchers found that Facebook was more likely to be taking posts down because of who was posting them, not because of the content itself. As a result, harmful and/or misleading content was allowed to float around the Facebook network unhindered and undetected.
To cut to the chase, Facebook's approach to content moderation didn't work. Read the full report here:👇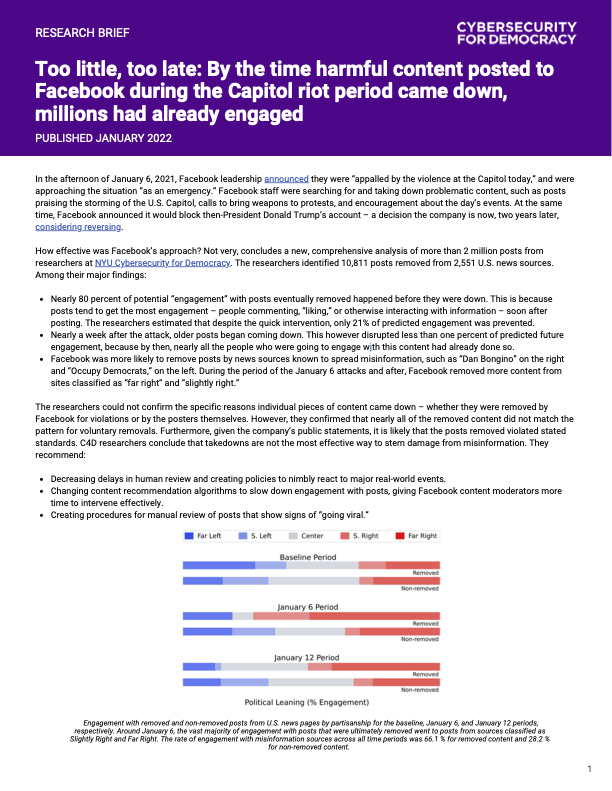 Further Reading
---
w/Brand Strategies
Brand Strategies in Web3, Metaverse and Emerging Technologies
The latest brand strategy updates to the Brand Strategy Collection include:
Netflix: NFTs and the Metaverse
Netgear: Building technology for web3
Nike: The CTO of one of the biggest consumer brands in web3 gets hacked
Nissan: Emerging technologies and the Metaverse for customer engagement
NYX: The L'Oréala brand builds a presence on Roblox
Outback Steakhouse: NFTs for customer engagement
Origyn: blockchain certification technology use NFTs to authenticate an owner's luxury watch and  eliminate counterfeiting.
ORC Zoo: Orangutan artwork as NFTs
Overpriced: Physical and virtual merchandising
Olympics: from tickets to artwork to raising awareness of political opposition
Pizza Hut: the world's first NFT pizza
Papa John's: the great NFT pizza bag givaway
Pacsun: the youth clothing brand's strategy for NFTs, the metaverse and virtual and augmented reality
P&G: the dedicated web3 development lab is called Lifelab
Premium Subscribers get FULL ACCESS and unrestricted access to the Brand Strategy Collection. To access the Collection, upgrade to Premium here 👇
Full details here 👇
---
w/Podcast
Subscribe to the Big Tech Little Tech newsletter
Stay up to date with all the news and latest episodes from the Big Tech Little Tech podcast. Subscribe to the Substack newsletter now, it's free!
---
Further Reading
---
w/Promotions
Lifelike Text to Speech Voices: Stop using robotic voices in your videos, sound human with the best neural voices. Chose from 850 voices in 75 different languages to make sure there is a voice that suits everyone.
🤖
Fliki offers a free plan and three pricing options from $4/month.
👻 Turn Your Audience Into A Business.
Ghost is a powerful app for new-media creators to publish, share, and grow a business around their content. It comes with modern tools to build a website, publish content, send newsletters & offer paid subscriptions to members.
Try Ghost completely free for 14 days.
---
☕️ Buy Me A Coffee
Readers often ask me how they can show their appreciation for Wiser!
Here's a way...Buy me a coffee.
BuyMeACoffee is a donation service that makes it real quick and easy for supporters like you to make a one-off or repeat donation and show their appreciation. Virtual coffees are priced at €2 each.

---
Disclaimer: Some of the links on this page are adverts or promotions. At no cost to you, I may receive a commission for introducing you to the products and services.
---