All you need to know about everything that matters in BigTech, emerging tech, innovation and strategy.
---
---
w/Promotion
🔥 This issue of Wiser! Things is promoting CHARTR.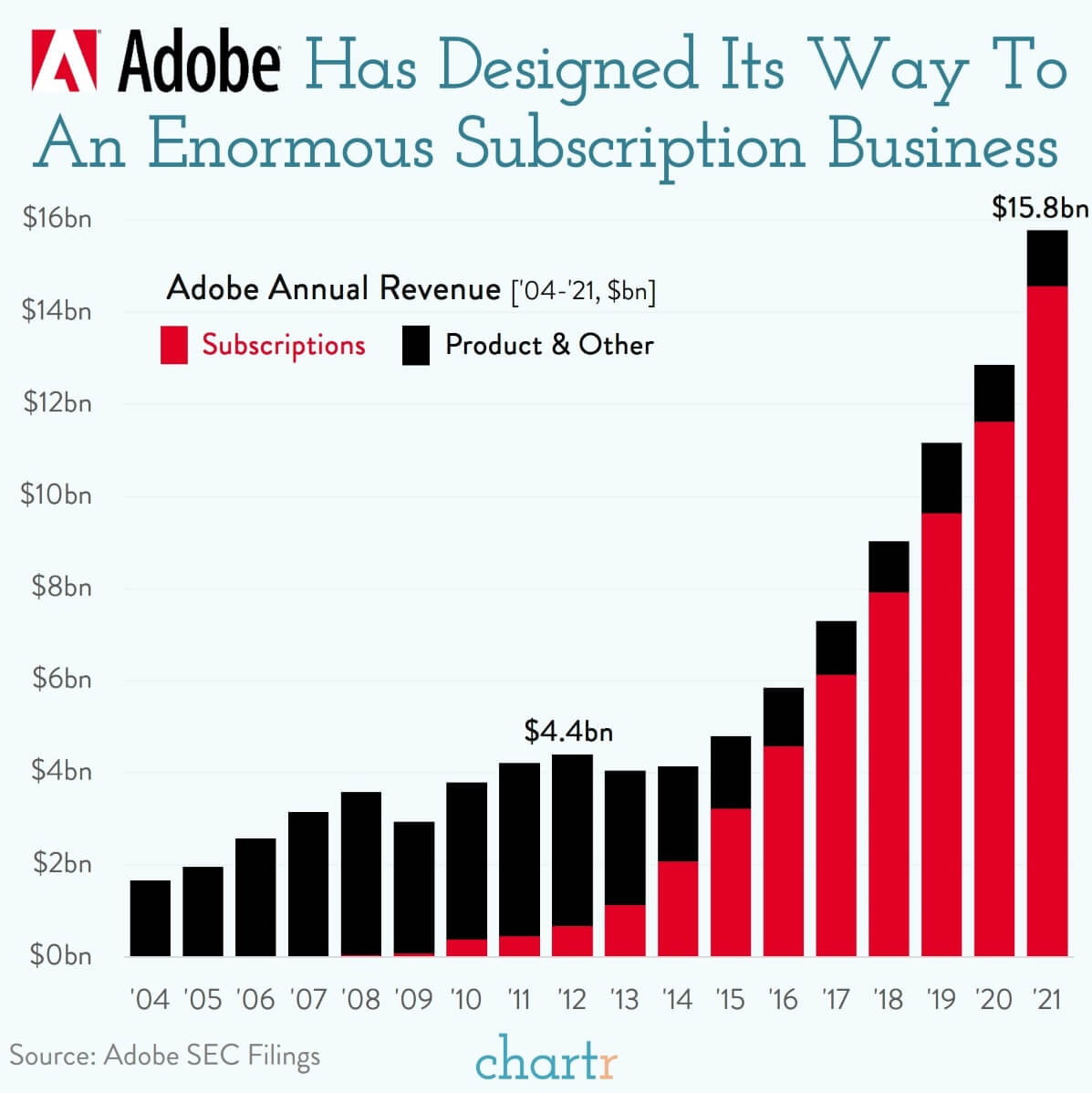 Take your office small talk to the next level with Chartr
Behind every big headline or emerging theme, there's the data that underpins the story. When I want to understand the numbers behind a topic – the deeper context that I can't get just from reading news – I turn to my friends at Chartr.
Their free visual newsletter is packed with snackable charts and easy-to-remember insights on business, tech, entertainment, and society – in less than a 5 minute read.
Join 300,000+ professionals FOR FREE and get the data, anecdotes, and visuals you need to understand today's world and take your office small talk to the next level.
---
w/Premium Content
Revolutionising Industries: Real-Life Examples of AI Transformation
Given the amount of attention and focus there is on generative AI, it's a wonder that homo sapiens have managed to get this far without it. But like all good things that sound too good to be true, they generally are and this AI is no different. That's not to say that what we've seen over the past three months following the public launch of ChatGPT isn't exciting, disruptive, and scary, all at the same time. It is. The point is that behind the headlines and the hype, there's a transformative technology that's still got a way to go.
That goes for ChatGPT too.
As OpenAI admits, ChatGPT should be used with caution. It's great at what it does but it's only as good as the data that's fed into it (which, by the way, does not go beyond 2021.) Also bear in mind that ChatGPT has no common sense, moral compass, or instinct to smell a con or a huckster.
But the question that intrigued me this week, as OpenAI announced it was launching a paid service for ChatGPT (which means OpenAI can no longer hide behind the "it's only in beta mode" defence when ChatGPT results in anything harmful), is how good ChatGPT is at doing what I do.
So, I put ChatGPT to the test, with a little help from NotionAI, and let the AI write an entire full length article. It's a ten minute read and was 99.47% written by AI (I made a few minor tweaks and wrote the clarification section to be absolutely clear that this was AI generated.)
🤖 I gave ChatGPT ten industries and asked it to write me a 2,500 word article with three use cases and three real life examples for each industry of how AI will revolutionise those industries. I asked the AI to write a start, middle and end in an "interesting and informative style". The AI even wrote the article title.
---
w/Web3
1. Is the UK one step closer to a digital pound
The Bank of England and the UK Treasury are exploring the issues involved with creating a CBDC, aka Central Bank Digital Currency. Judging from today's poorly informed press coverage, there's a lot of educating to be done here if consumers are to be using "digital sterling as an alternative to cash by the end of the decade."
The basis for the story is that UK Government ministers have speed up their response to the rise of cryptocurrencies with a four-month public consultation process on a "Britcoin."
However, the Guardian has got its knickers in a twist with the story when the newspaper goes on to conflate the question of a CBDC with crypto and the recent collapse of FTX and connected crypto exchanges. The paper said, "After the volatility of cryptocurrencies and the collapse of the crypto exchange FTX", the Bank and the Treasury will "seek to reassure the public that a state-backed digital currency would be as safe as cash"."
Here's the thing: it would be. That's not to say that consumer confidence needs to be established, but there's no reason for a digital GBP to be seen unsafe or as speculative as any one of the 5,000+ cryptocurrencies in existence. That's because a digital pound would NOT be a crypto currency nor would it be sold on crypto exchanges. Which means that the failings in FTX or any other exchanges be not be a concern, because we would not be buying our digital pounds on Binance or any other crypto exchange. That's not these things work.
I for one, will be very excited to see a digital pound, as long as its a proper one and not fudge job like a stablecoin.
Further reading
---
w/Metaverse
2. Can flirting in a virtual reality chatroom stop someone from cheating?
This is the interesting suggestion from a research team in Israel. They have published their findings in the journal called "Current Research in Ecological and Social Psychology." The research hinges on a simple question: whether flirting with a "seductive" virtual agent, in this case, a VR bartender, would either help or hinder their real-life monogamous relationships.
Here's the thing: these social scientists believed it would help and that flirting with a seductive VR character can help fend off infidelity. The team conducted experiments where participants strapped on a VR headset, entered a virtual bar, and chatted up the (simulated) bartender. The researchers observed that a little bit of virtual temptation works like an anti-cheating vaccine.
---
w/Web3
3. Mastercard's NFT lead mints his resignation letter
The man behind Mastercard's NFT initiative has minted his resignation letter as an NFT (of course he has!) Here's how Milk Road reported it:
"Mastercard's now ex-NFT Product Lead, Satvik Sethi, dropped a bomb on Twitter by exposing Mastercard, but he also turned his resignation letter into an NFT. Each one costs 0.023 ETH and 90 have been minted so far.

Sethi said he suffered harassment, emotional distress, and his salary was cut by 40%, while his workload increased by 200%. He claimed he would go months without getting paid."🤔
Here's the thing: Mastercard has been going big on NFTs and across Web3 more broadly:
👉 They just launched an Accelerator so musicians can launch their own NFTs,
👉 Partnered with crypto exchanges so users can easily buy NFTs using debit cards,
👉 Dropped the first NFT-customised partnership.
To lose the head of the initiative for the reasons that Sethi has given is clumsy, at the very least.
Read the letter for yourself, or buy it here if you have a crypto wallet.
💰
For more on what Mastercard are doing in Web3, sign up for the
Brand Strategy Collection
and discover the projects, initiatives and strategies of 250 consumer brands in emerging tech.
---
w/AI
Artifact is a personalised news feed driven by AI
Created by a couple of ex-Instagram founders, Artifact serves you news articles (and other text-based content, like blogs) based on your interests. Over time, your feed will adjust based on what you engage with, and there will be more social features to discuss with friends.
The product today is in private beta, but early users have shared some screenshots and feedback. I'm on the waitlist it now and let you know how I get on.
---
---
w/SocialMedia
4. One in four humans on this planet use Facebook every month
One in six use the Facebook family of apps EVERY DAY! Think about that for a moment. There is no other organisation, nation state or religion in the history of humankind that has matched Facebook's reach or influence.
Now, I'm no fan of Facebook but you have to give them credit for continuing to grow inspite of the annis horiblis of 2022. On last week's earnings call, Meta reported that Facebook hit the milestone of 2 billion monthly users, and there are only around 5 billion people that are Internet users. That means 40% of the online world are using Facebook every month. Not bad for a company that is only 19 years old and started life as a simple online student directory.
The numbers get even mor empressive when you add in WhatsApp, Messenger and Instagram. Combined, the Facebook family of apps reported 2.96 billion DAILY active users, meaning not far off 60% of all internet users log into a Meta product everyday.
Here's The Thing: even though it's a publicly listed company, Facebook is effectively controlled by one man, Mark Zuckerberg. He has the ability to influence and impact more people in the world than any other person in the history of persons. The 2 billion dollar question is: Should we be worried by that? Are you?

Image Credit: Chartr, a visual newsletter that charts data-driven insights into business, technology, entertainment and society.
Further Reading
---
w/AI
5. Are pigeons cleverer than artificial intelligence?
The pigeon is brainier than artificial intelligence, according to a new study. Researchers gave pigeons complex tests that high-level thinking such as logic or reasoning would not solve and found that they "one of the smartest creatures despite inspiring the insult 'birdbrain'", said the Daily Mirror (so it must be true!)
Prof Ed Wasserman, of the University of Iowa, said: "The pigeons are like AI masters."
Take that OpenAi and Google!!
---
w/Web3
6. Sint Maarten looks at Tron as cryptocurrency antidote to the US Dollar
The Caribbean island nation of Sint Maarten has been exploring ways to use cryptocurrency to boost its economy and improve financial inclusion. The move is part of a larger initiative to move away from its reliance on the US dollar and create a more stable economy. Now, the Sint Marrten government has begun exploring the potential of using the Tron cryptocurrency. The government is also working on a regulatory framework for the use of cryptocurrency, which would include provisions for taxation, consumer protection, and anti-money laundering.
Last Fall, St Maarten's Caribbean neighbor Dominica adopted seven Tron-based cryptocurrencies as legal tender and chose community-governed Tron as its national blockchain. The hope is that by making cryptocurrency legal tender, Sint Maarten can create a more stable economy and encourage more businesses to adopt it, thus stimulating the economy and providing more financial opportunities for its citizens.
Here's the thing: El Salvador started with similar ambitions in 2021 when they became the first nation in the world to make Bitcoin legal tender alongside the USD. It's still early days for the poorest country in the region but the adoption of Bitcoin hasn't gone entirely to plan for President Bukuele.
---
7. What's going on at Twitter
7.1 Tweets go to 4,000 words
Twitter is to allow tweets upto 4,000 words long, but only for Twitter Blue subscribers. The idea is that a 280 character tweet will have a "read more" option that opens up into a blogpost.
Here's The Thing: this will keep Twitter users inside Twitter. Instead of posting a tweet that says "read my great blog" with a link to an article on Medium or rickhuckstep.com, the content will be inside Twitter. Will this be a good thing? I'm not so sure. The beauty of Twitter is that it has a 280 character limitation that forces brevity. For longer tweets, there is a perfectly good system called "threads" that works perfectly well.
Win or Fail? FAIL 👎
7.2 Money for content creators
Elon Musk tweeted that users can now make money from viral threads. Apparently, Twitter is going to start sharing revenue with creators from the ads that appear in replies to their threads. But there's a catch - the tweeter must subscribe to Twitter Blue, the $8/subscription service that Musk is trying to establish as the not-dependant-on-advertising business model for Twitter (good luck with that Elon!)
One more thing, Musk hasn't said anything about how much they'll share ad revenues with users in this new scheme. No sh$t Sherlock!
Win or Fail? On the fence 🫰
7.3 Tweetdeck is coming to Twitter
It looks like Twitter intends to make Tweetdeck a feature of the paid Twitter Blue accounts. Given that corporate Twitter Blue accounts may well be priced above those for standard user ones, this could make the free and really useful tool much less accessible to smaller newsrooms.
Win or Fail? On the fence 🫰
7.4 Twitter suffers major outage
Huge amounts of changes are being made to Twitter right now, with a much reduced team. It led to a significant outage this week with Elon Musk putting a halt to all developments and system changes. The bulk of the changes being made to Twitter are to support changes to the API, which was unceremoniusly turned off a couple of weeks ago. It seems like its about to go back on, but with limitations for those apps that run their businesses off free access to Twitter via the API.
Win or Fail? FAIL 👎
7.5 Reinstated accounts are making money for Twitter
In an article for the Washington Post, the Centre for Countering Digital Hate report that just ten of the accounts reinstated by Elon Musk, like those of misogynist Andrew Tate, neo-Nazi Andrew Anglin, and Covid conspiracy theorist Dr. Robert Malone are generating up to $19 million a year in ad revenue for Elon Musk's cash-strapped Twitter. Which goes along way to explain why advertisers are pulling back from spending on Twitter. They don't want to appear next to unsavoury content.
Win or Fail? FAIL 👎
---
w/Web3
Sir Anthony Hopkins NFT Collection sold out in 10 minutes
Remember last October when Oscar-winning actor Sir Anthony Hopkins released a unique NFT collection? The collection of 1,000 pieces of art sold out in 10 minutes! Now, to say a big thank you, he has now written a piano piece to his supporters and the NFT collectors.
In collaboration with NFT agency OrangeComet, Sir Anthony previously unveiled a collection of NFTs called "The Eternal Collection" in October. The 1,000 "original cinematic art pieces inspired by various performances from the actor's long career" tokens, as described by the media, were sold out in less than 10 minutes. Along with the photos, the gifts were chosen at random and included signed art books with the actor's paintings and drawings as well as the opportunity to make a Zoom call to Sir Anthony.
---
w/Technology
8. When a brain controls a computer by thoughts alone
"Brain Computer Interface" company Precision Neuroscience is working on a device to help patients with paralysis operate digital devices using their thoughts. The brain implant is thinner than a human hair and will connect the paralysed patient to a computer, opening up a world of possibilities for the patient to communicate and regain some control in the world outside their body.
This is tech I cannot claim to understand but find fascinating. Precision was co-founded by Michael Mager and Benjamin Rapoport, who also co-founded Elon Musk's BCI company called Neuralink. The company has raised $41 million in a Series B funding round, bringing its total to $53 million in under two years.
Precision Neuroscience, founded by Neuralink alum, raises $41 million.
---
w/AI
9. DoNotPay does not happen
An AI robot lawyer was set to argue in court until real lawyers shut it down. This is the story, aka stunt of a British man who planned to have a "robot lawyer" help a defendant fight a traffic ticket. It was the subject Shaun and I discussed on this episode of the Big Tech Little Tech podcast.
Joshua Browder is the CEO of the New York-based startup DoNotPay, who created a way for people contesting traffic tickets to use arguments in court generated by artificial intelligence. Now, Browder has dropped the effort after receiving threats of possible prosecution and jail time.
Here's the thing: if Browder was serious about this, he'd have gone to trial BEFORE telling the world he was doing it. What a story that would have been!!!! But there is a serious side to this story that we should thank Browder for. Because he's raised awareness of AI providing legal support to the many who can not get it today. There's a wealth divide of haves and have notes when it comes to basic legal support.
AI promises to offer a solution for the disadvantaged in society who are excluded because of their financial situation. Already, AI has been put to the test in law exams and proven itself more than capable of passing bar exams.
---
w/Web3
10. Hermès wins trademark case against MetaBirkins NFTs
A nine-person jury ruled in favor of Hermès in a trademark case against NFT artist Mason Rothschild. The jury found that Rothschild profited from Hermès' goodwill by designing NFTs based on the fashion house's Birkin bags and awarded Hermès $133,000 in damages.
The jury also determined that the First Amendment to the United States Constitution did not protect NFTs. The case sets a precedent for NFT creators and builds the framework for intellectual property law relating to digital creations. Rothschild argued that his work was artistic and made a significant statement about the fashion industry, but the jury found that he intended to mislead consumers.
The Rogers v. Grimaldi criterion was applied to weigh creative expression against trademark infringement. The verdict sets a precedent for future IP and creativity for artists.
Source: NFT News (this summary was written by AI using Clasp.
For more on consumer brands in Web3, the metaverse and AI, check out the Brand Strategy Collection from Wiser!👇
---
Wiser! Reading
---
w/Promotions
🛠️ Tools, Tips and Classified
---
☕️ Buy Me A Coffee
Readers often ask me how they can show their appreciation for Wiser!
Here's a way...Buy me a coffee.
BuyMeACoffee is a donation service that makes it real quick and easy for supporters like you to make a one-off or repeat donation and show their appreciation. Virtual coffees are priced at €2 each.

---
Disclaimer: Some of the links on this page are adverts or promotions. At no cost to you, I may receive a commission for introducing you to the products and services.